0001: SET sql_mode = ? 0.0006s
0002: SHOW DATABASES LIKE 'suicideprevention' 0.0005s
0003: SHOW FULL TABLES WHERE Table_Type != 'VIEW' 0.0111s
0004: SELECT DISTINCT "SiteTree_Live"."ClassName", "SiteTree_Live"."LastEdited", "SiteTree_Live"."Created", "SiteTree_Live"."Priority", "SiteTree_Live"."ShowListingImageOnPage", "SiteTree_Live"."ListingSummary", "SiteTree_Live"."SearchAudiencesSource", "SiteTree_Live"."SearchCategoriesSource", "SiteTree_Live"."SearchTagsSource", "SiteTree_Live"."CanViewType", "SiteTree_Live"."CanEditType", "SiteTree_Live"."Version", "SiteTree_Live"."URLSegment", "SiteTree_Live"."Title", "SiteTree_Live"."MenuTitle", "SiteTree_Live"."Content", "SiteTree_Live"."MetaDescription", "SiteTree_Live"."ExtraMeta", "SiteTree_Live"."ShowInMenus", "SiteTree_Live"."ShowInSearch", "SiteTree_Live"."Sort", "SiteTree_Live"."HasBrokenFile", "SiteTree_Live"."HasBrokenLink", "SiteTree_Live"."ReportClass", "SiteTree_Live"."ListingImageID", "SiteTree_Live"."ParentID", "SiteTree_Live"."ID", CASE WHEN "SiteTree_Live"."ClassName" IS NOT NULL THEN "SiteTree_Live"."ClassName" ELSE 'SilverStripe\\CMS\\Model\\SiteTree' END AS "RecordClassName" FROM "SiteTree_Live" WHERE ("SiteTree_Live"."URLSegment" = ?) AND ("SiteTree_Live"."ParentID" = ?) ORDER BY "SiteTree_Live"."Sort" ASC LIMIT 1 0.0014s
0005: SELECT DISTINCT "SiteTree_Live"."ClassName", "SiteTree_Live"."LastEdited", "SiteTree_Live"."Created", "SiteTree_Live"."Priority", "SiteTree_Live"."ShowListingImageOnPage", "SiteTree_Live"."ListingSummary", "SiteTree_Live"."SearchAudiencesSource", "SiteTree_Live"."SearchCategoriesSource", "SiteTree_Live"."SearchTagsSource", "SiteTree_Live"."CanViewType", "SiteTree_Live"."CanEditType", "SiteTree_Live"."Version", "SiteTree_Live"."URLSegment", "SiteTree_Live"."Title", "SiteTree_Live"."MenuTitle", "SiteTree_Live"."Content", "SiteTree_Live"."MetaDescription", "SiteTree_Live"."ExtraMeta", "SiteTree_Live"."ShowInMenus", "SiteTree_Live"."ShowInSearch", "SiteTree_Live"."Sort", "SiteTree_Live"."HasBrokenFile", "SiteTree_Live"."HasBrokenLink", "SiteTree_Live"."ReportClass", "SiteTree_Live"."ListingImageID", "SiteTree_Live"."ParentID", "SiteTree_Live"."ID", CASE WHEN "SiteTree_Live"."ClassName" IS NOT NULL THEN "SiteTree_Live"."ClassName" ELSE 'SilverStripe\\CMS\\Model\\SiteTree' END AS "RecordClassName" FROM "SiteTree_Live" WHERE ("SiteTree_Live"."ParentID" = ?) AND ("SiteTree_Live"."URLSegment" = ?) ORDER BY "SiteTree_Live"."Sort" ASC LIMIT 1 0.0007s
0006: SELECT DISTINCT "SiteTree_Live"."ClassName", "SiteTree_Live"."LastEdited", "SiteTree_Live"."Created", "SiteTree_Live"."Priority", "SiteTree_Live"."ShowListingImageOnPage", "SiteTree_Live"."ListingSummary", "SiteTree_Live"."SearchAudiencesSource", "SiteTree_Live"."SearchCategoriesSource", "SiteTree_Live"."SearchTagsSource", "SiteTree_Live"."CanViewType", "SiteTree_Live"."CanEditType", "SiteTree_Live"."Version", "SiteTree_Live"."URLSegment", "SiteTree_Live"."Title", "SiteTree_Live"."MenuTitle", "SiteTree_Live"."Content", "SiteTree_Live"."MetaDescription", "SiteTree_Live"."ExtraMeta", "SiteTree_Live"."ShowInMenus", "SiteTree_Live"."ShowInSearch", "SiteTree_Live"."Sort", "SiteTree_Live"."HasBrokenFile", "SiteTree_Live"."HasBrokenLink", "SiteTree_Live"."ReportClass", "SiteTree_Live"."ListingImageID", "SiteTree_Live"."ParentID", "SiteTree_Live"."ID", CASE WHEN "SiteTree_Live"."ClassName" IS NOT NULL THEN "SiteTree_Live"."ClassName" ELSE 'SilverStripe\\CMS\\Model\\SiteTree' END AS "RecordClassName" FROM "SiteTree_Live" WHERE ("SiteTree_Live"."ID" = ?) ORDER BY "SiteTree_Live"."Sort" ASC LIMIT 1 0.0006s
0007: SELECT DISTINCT "SiteConfig"."ClassName", "SiteConfig"."LastEdited", "SiteConfig"."Created", "SiteConfig"."Placeholder1", "SiteConfig"."Placeholder2", "SiteConfig"."Placeholder3", "SiteConfig"."ReceivedFormPlaceholder", "SiteConfig"."Phone", "SiteConfig"."Email", "SiteConfig"."Postal", "SiteConfig"."PortalLink", "SiteConfig"."ProviderLink", "SiteConfig"."FacebookLink", "SiteConfig"."TwitterLink", "SiteConfig"."FooterText", "SiteConfig"."FooterText2", "SiteConfig"."FooterText3", "SiteConfig"."HideSubscribeButton", "SiteConfig"."Title", "SiteConfig"."Tagline", "SiteConfig"."CanViewType", "SiteConfig"."CanEditType", "SiteConfig"."CanCreateTopLevelType", "SiteConfig"."PublicationsLinkID", "SiteConfig"."ResourcesLinkID", "SiteConfig"."PathwaysLinkID", "SiteConfig"."HelpLinkID", "SiteConfig"."ExtraLinkID", "SiteConfig"."SiteLogoID", "SiteConfig"."HeaderBannerID", "SiteConfig"."ID", CASE WHEN "SiteConfig"."ClassName" IS NOT NULL THEN "SiteConfig"."ClassName" ELSE 'SilverStripe\\SiteConfig\\SiteConfig' END AS "RecordClassName" FROM "SiteConfig" LIMIT 1 0.0006s
0008: SELECT DISTINCT "SiteTree_Live"."ClassName", "SiteTree_Live"."LastEdited", "SiteTree_Live"."Created", "SiteTree_Live"."Priority", "SiteTree_Live"."ShowListingImageOnPage", "SiteTree_Live"."ListingSummary", "SiteTree_Live"."SearchAudiencesSource", "SiteTree_Live"."SearchCategoriesSource", "SiteTree_Live"."SearchTagsSource", "SiteTree_Live"."CanViewType", "SiteTree_Live"."CanEditType", "SiteTree_Live"."Version", "SiteTree_Live"."URLSegment", "SiteTree_Live"."Title", "SiteTree_Live"."MenuTitle", "SiteTree_Live"."Content", "SiteTree_Live"."MetaDescription", "SiteTree_Live"."ExtraMeta", "SiteTree_Live"."ShowInMenus", "SiteTree_Live"."ShowInSearch", "SiteTree_Live"."Sort", "SiteTree_Live"."HasBrokenFile", "SiteTree_Live"."HasBrokenLink", "SiteTree_Live"."ReportClass", "SiteTree_Live"."ListingImageID", "SiteTree_Live"."ParentID", "SiteTree_Live"."ID", CASE WHEN "SiteTree_Live"."ClassName" IS NOT NULL THEN "SiteTree_Live"."ClassName" ELSE 'SilverStripe\\CMS\\Model\\SiteTree' END AS "RecordClassName" FROM "SiteTree_Live" WHERE ("SiteTree_Live"."ShowInMenus" = ?) AND ("SiteTree_Live"."ParentID" = ?) ORDER BY "SiteTree_Live"."Sort" ASC 0.0009s
0009: SELECT DISTINCT "SiteTree_Live"."ClassName", "SiteTree_Live"."LastEdited", "SiteTree_Live"."Created", "RedirectorPage_Live"."RedirectionType", "RedirectorPage_Live"."ExternalURL", "RedirectorPage_Live"."LinkToID", CASE WHEN "SiteTree_Live"."ClassName" IN ('SilverStripe\\CMS\\Model\\SiteTree', 'Page', 'HomePage', 'MarketingPage', 'PortalPage', 'ProfilePage', 'ProfilesPage', 'SubHomePage', 'Internetrix\\IRXNews\\Model\\News', 'Internetrix\\IRXResources\\Pages\\AdvancedResourcePage', 'PurpleSpider\\BasicCalendar\\CalendarPage', 'SilverStripe\\ErrorPage\\ErrorPage', 'Internetrix\\ListingSummary\\Model\\ListingPage', 'SilverStripe\\CMS\\Model\\RedirectorPage', 'SilverStripe\\CMS\\Model\\VirtualPage', 'SilverStripe\\UserForms\\Model\\UserDefinedForm', 'CalendarPageIRX', 'Internetrix\\IRXNews\\Model\\NewsHolder', 'ContactPage', 'ExpensesFormPage', 'Internetrix\\IRXJobs\\Pages\\JobsPage') THEN "SiteTree_Live"."Version" WHEN "SiteTree_Live"."ClassName" IN ('Page', 'HomePage', 'MarketingPage', 'PortalPage', 'ProfilePage', 'ProfilesPage', 'SubHomePage', 'Internetrix\\IRXNews\\Model\\News', 'Internetrix\\IRXResources\\Pages\\AdvancedResourcePage', 'PurpleSpider\\BasicCalendar\\CalendarPage', 'SilverStripe\\ErrorPage\\ErrorPage', 'Internetrix\\ListingSummary\\Model\\ListingPage', 'SilverStripe\\CMS\\Model\\RedirectorPage', 'SilverStripe\\CMS\\Model\\VirtualPage', 'SilverStripe\\UserForms\\Model\\UserDefinedForm', 'CalendarPageIRX', 'Internetrix\\IRXNews\\Model\\NewsHolder', 'ContactPage', 'ExpensesFormPage', 'Internetrix\\IRXJobs\\Pages\\JobsPage') THEN "Page_Live"."Version" ELSE NULL END AS "Version", "SiteTree_Live"."ID", CASE WHEN "SiteTree_Live"."ClassName" IS NOT NULL THEN "SiteTree_Live"."ClassName" ELSE 'SilverStripe\\CMS\\Model\\SiteTree' END AS "RecordClassName", "SiteTree_Live"."Sort" FROM "SiteTree_Live" LEFT JOIN "Page_Live" ON "Page_Live"."ID" = "SiteTree_Live"."ID" LEFT JOIN "RedirectorPage_Live" ON "RedirectorPage_Live"."ID" = "SiteTree_Live"."ID" WHERE ("SiteTree_Live"."ID" = ?) AND ("SiteTree_Live"."ClassName" IN (?)) ORDER BY "SiteTree_Live"."Sort" ASC LIMIT 1 0.0008s
0010: SELECT DISTINCT "SiteTree_Live"."ClassName", "SiteTree_Live"."LastEdited", "SiteTree_Live"."Created", "SiteTree_Live"."Priority", "SiteTree_Live"."ShowListingImageOnPage", "SiteTree_Live"."ListingSummary", "SiteTree_Live"."SearchAudiencesSource", "SiteTree_Live"."SearchCategoriesSource", "SiteTree_Live"."SearchTagsSource", "SiteTree_Live"."CanViewType", "SiteTree_Live"."CanEditType", "SiteTree_Live"."Version", "SiteTree_Live"."URLSegment", "SiteTree_Live"."Title", "SiteTree_Live"."MenuTitle", "SiteTree_Live"."Content", "SiteTree_Live"."MetaDescription", "SiteTree_Live"."ExtraMeta", "SiteTree_Live"."ShowInMenus", "SiteTree_Live"."ShowInSearch", "SiteTree_Live"."Sort", "SiteTree_Live"."HasBrokenFile", "SiteTree_Live"."HasBrokenLink", "SiteTree_Live"."ReportClass", "SiteTree_Live"."ListingImageID", "SiteTree_Live"."ParentID", "SiteTree_Live"."ID", CASE WHEN "SiteTree_Live"."ClassName" IS NOT NULL THEN "SiteTree_Live"."ClassName" ELSE 'SilverStripe\\CMS\\Model\\SiteTree' END AS "RecordClassName" FROM "SiteTree_Live" WHERE ("SiteTree_Live"."ID" = ?) ORDER BY "SiteTree_Live"."Sort" ASC LIMIT 1 0.0005s
0011: SELECT DISTINCT "SiteTree_Live"."ClassName", "SiteTree_Live"."LastEdited", "SiteTree_Live"."Created", "SiteTree_Live"."Priority", "SiteTree_Live"."ShowListingImageOnPage", "SiteTree_Live"."ListingSummary", "SiteTree_Live"."SearchAudiencesSource", "SiteTree_Live"."SearchCategoriesSource", "SiteTree_Live"."SearchTagsSource", "SiteTree_Live"."CanViewType", "SiteTree_Live"."CanEditType", "SiteTree_Live"."Version", "SiteTree_Live"."URLSegment", "SiteTree_Live"."Title", "SiteTree_Live"."MenuTitle", "SiteTree_Live"."Content", "SiteTree_Live"."MetaDescription", "SiteTree_Live"."ExtraMeta", "SiteTree_Live"."ShowInMenus", "SiteTree_Live"."ShowInSearch", "SiteTree_Live"."Sort", "SiteTree_Live"."HasBrokenFile", "SiteTree_Live"."HasBrokenLink", "SiteTree_Live"."ReportClass", "SiteTree_Live"."ListingImageID", "SiteTree_Live"."ParentID", "SiteTree_Live"."ID", CASE WHEN "SiteTree_Live"."ClassName" IS NOT NULL THEN "SiteTree_Live"."ClassName" ELSE 'SilverStripe\\CMS\\Model\\SiteTree' END AS "RecordClassName" FROM "SiteTree_Live" WHERE ("SiteTree_Live"."ID" = ?) ORDER BY "SiteTree_Live"."Sort" ASC LIMIT 1 0.0006s
0012: SELECT DISTINCT "SiteTree_Live"."ClassName", "SiteTree_Live"."LastEdited", "SiteTree_Live"."Created", "SiteTree_Live"."Priority", "SiteTree_Live"."ShowListingImageOnPage", "SiteTree_Live"."ListingSummary", "SiteTree_Live"."SearchAudiencesSource", "SiteTree_Live"."SearchCategoriesSource", "SiteTree_Live"."SearchTagsSource", "SiteTree_Live"."CanViewType", "SiteTree_Live"."CanEditType", "SiteTree_Live"."Version", "SiteTree_Live"."URLSegment", "SiteTree_Live"."Title", "SiteTree_Live"."MenuTitle", "SiteTree_Live"."Content", "SiteTree_Live"."MetaDescription", "SiteTree_Live"."ExtraMeta", "SiteTree_Live"."ShowInMenus", "SiteTree_Live"."ShowInSearch", "SiteTree_Live"."Sort", "SiteTree_Live"."HasBrokenFile", "SiteTree_Live"."HasBrokenLink", "SiteTree_Live"."ReportClass", "SiteTree_Live"."ListingImageID", "SiteTree_Live"."ParentID", "SiteTree_Live"."ID", CASE WHEN "SiteTree_Live"."ClassName" IS NOT NULL THEN "SiteTree_Live"."ClassName" ELSE 'SilverStripe\\CMS\\Model\\SiteTree' END AS "RecordClassName" FROM "SiteTree_Live" WHERE ("SiteTree_Live"."ParentID" <> "SiteTree_Live"."ID") AND ("SiteTree_Live"."ParentID" = ?) AND ("SiteTree_Live"."ShowInMenus" = ?) ORDER BY "SiteTree_Live"."Sort" ASC 0.0007s
0013: SELECT DISTINCT "SiteTree_Live"."ClassName", "SiteTree_Live"."LastEdited", "SiteTree_Live"."Created", "SiteTree_Live"."Priority", "SiteTree_Live"."ShowListingImageOnPage", "SiteTree_Live"."ListingSummary", "SiteTree_Live"."SearchAudiencesSource", "SiteTree_Live"."SearchCategoriesSource", "SiteTree_Live"."SearchTagsSource", "SiteTree_Live"."CanViewType", "SiteTree_Live"."CanEditType", "SiteTree_Live"."Version", "SiteTree_Live"."URLSegment", "SiteTree_Live"."Title", "SiteTree_Live"."MenuTitle", "SiteTree_Live"."Content", "SiteTree_Live"."MetaDescription", "SiteTree_Live"."ExtraMeta", "SiteTree_Live"."ShowInMenus", "SiteTree_Live"."ShowInSearch", "SiteTree_Live"."Sort", "SiteTree_Live"."HasBrokenFile", "SiteTree_Live"."HasBrokenLink", "SiteTree_Live"."ReportClass", "SiteTree_Live"."ListingImageID", "SiteTree_Live"."ParentID", "SiteTree_Live"."ID", CASE WHEN "SiteTree_Live"."ClassName" IS NOT NULL THEN "SiteTree_Live"."ClassName" ELSE 'SilverStripe\\CMS\\Model\\SiteTree' END AS "RecordClassName" FROM "SiteTree_Live" WHERE ("SiteTree_Live"."ID" = ?) ORDER BY "SiteTree_Live"."Sort" ASC LIMIT 1 0.0005s
0014: SELECT DISTINCT "SiteTree_Live"."ClassName", "SiteTree_Live"."LastEdited", "SiteTree_Live"."Created", "SiteTree_Live"."Priority", "SiteTree_Live"."ShowListingImageOnPage", "SiteTree_Live"."ListingSummary", "SiteTree_Live"."SearchAudiencesSource", "SiteTree_Live"."SearchCategoriesSource", "SiteTree_Live"."SearchTagsSource", "SiteTree_Live"."CanViewType", "SiteTree_Live"."CanEditType", "SiteTree_Live"."Version", "SiteTree_Live"."URLSegment", "SiteTree_Live"."Title", "SiteTree_Live"."MenuTitle", "SiteTree_Live"."Content", "SiteTree_Live"."MetaDescription", "SiteTree_Live"."ExtraMeta", "SiteTree_Live"."ShowInMenus", "SiteTree_Live"."ShowInSearch", "SiteTree_Live"."Sort", "SiteTree_Live"."HasBrokenFile", "SiteTree_Live"."HasBrokenLink", "SiteTree_Live"."ReportClass", "SiteTree_Live"."ListingImageID", "SiteTree_Live"."ParentID", "SiteTree_Live"."ID", CASE WHEN "SiteTree_Live"."ClassName" IS NOT NULL THEN "SiteTree_Live"."ClassName" ELSE 'SilverStripe\\CMS\\Model\\SiteTree' END AS "RecordClassName" FROM "SiteTree_Live" WHERE ("SiteTree_Live"."ID" = ?) ORDER BY "SiteTree_Live"."Sort" ASC LIMIT 1 0.0005s
0015: SELECT DISTINCT "SiteTree_Live"."ClassName", "SiteTree_Live"."LastEdited", "SiteTree_Live"."Created", "SiteTree_Live"."Priority", "SiteTree_Live"."ShowListingImageOnPage", "SiteTree_Live"."ListingSummary", "SiteTree_Live"."SearchAudiencesSource", "SiteTree_Live"."SearchCategoriesSource", "SiteTree_Live"."SearchTagsSource", "SiteTree_Live"."CanViewType", "SiteTree_Live"."CanEditType", "SiteTree_Live"."Version", "SiteTree_Live"."URLSegment", "SiteTree_Live"."Title", "SiteTree_Live"."MenuTitle", "SiteTree_Live"."Content", "SiteTree_Live"."MetaDescription", "SiteTree_Live"."ExtraMeta", "SiteTree_Live"."ShowInMenus", "SiteTree_Live"."ShowInSearch", "SiteTree_Live"."Sort", "SiteTree_Live"."HasBrokenFile", "SiteTree_Live"."HasBrokenLink", "SiteTree_Live"."ReportClass", "SiteTree_Live"."ListingImageID", "SiteTree_Live"."ParentID", "SiteTree_Live"."ID", CASE WHEN "SiteTree_Live"."ClassName" IS NOT NULL THEN "SiteTree_Live"."ClassName" ELSE 'SilverStripe\\CMS\\Model\\SiteTree' END AS "RecordClassName" FROM "SiteTree_Live" WHERE ("SiteTree_Live"."ID" = ?) ORDER BY "SiteTree_Live"."Sort" ASC LIMIT 1 0.0005s
0016: SELECT DISTINCT "SiteTree_Live"."ClassName", "SiteTree_Live"."LastEdited", "SiteTree_Live"."Created", "RedirectorPage_Live"."RedirectionType", "RedirectorPage_Live"."ExternalURL", "RedirectorPage_Live"."LinkToID", CASE WHEN "SiteTree_Live"."ClassName" IN ('SilverStripe\\CMS\\Model\\SiteTree', 'Page', 'HomePage', 'MarketingPage', 'PortalPage', 'ProfilePage', 'ProfilesPage', 'SubHomePage', 'Internetrix\\IRXNews\\Model\\News', 'Internetrix\\IRXResources\\Pages\\AdvancedResourcePage', 'PurpleSpider\\BasicCalendar\\CalendarPage', 'SilverStripe\\ErrorPage\\ErrorPage', 'Internetrix\\ListingSummary\\Model\\ListingPage', 'SilverStripe\\CMS\\Model\\RedirectorPage', 'SilverStripe\\CMS\\Model\\VirtualPage', 'SilverStripe\\UserForms\\Model\\UserDefinedForm', 'CalendarPageIRX', 'Internetrix\\IRXNews\\Model\\NewsHolder', 'ContactPage', 'ExpensesFormPage', 'Internetrix\\IRXJobs\\Pages\\JobsPage') THEN "SiteTree_Live"."Version" WHEN "SiteTree_Live"."ClassName" IN ('Page', 'HomePage', 'MarketingPage', 'PortalPage', 'ProfilePage', 'ProfilesPage', 'SubHomePage', 'Internetrix\\IRXNews\\Model\\News', 'Internetrix\\IRXResources\\Pages\\AdvancedResourcePage', 'PurpleSpider\\BasicCalendar\\CalendarPage', 'SilverStripe\\ErrorPage\\ErrorPage', 'Internetrix\\ListingSummary\\Model\\ListingPage', 'SilverStripe\\CMS\\Model\\RedirectorPage', 'SilverStripe\\CMS\\Model\\VirtualPage', 'SilverStripe\\UserForms\\Model\\UserDefinedForm', 'CalendarPageIRX', 'Internetrix\\IRXNews\\Model\\NewsHolder', 'ContactPage', 'ExpensesFormPage', 'Internetrix\\IRXJobs\\Pages\\JobsPage') THEN "Page_Live"."Version" ELSE NULL END AS "Version", "SiteTree_Live"."ID", CASE WHEN "SiteTree_Live"."ClassName" IS NOT NULL THEN "SiteTree_Live"."ClassName" ELSE 'SilverStripe\\CMS\\Model\\SiteTree' END AS "RecordClassName", "SiteTree_Live"."Sort" FROM "SiteTree_Live" LEFT JOIN "Page_Live" ON "Page_Live"."ID" = "SiteTree_Live"."ID" LEFT JOIN "RedirectorPage_Live" ON "RedirectorPage_Live"."ID" = "SiteTree_Live"."ID" WHERE ("SiteTree_Live"."ID" = ?) AND ("SiteTree_Live"."ClassName" IN (?)) ORDER BY "SiteTree_Live"."Sort" ASC LIMIT 1 0.0006s
0017: SELECT DISTINCT "SiteTree_Live"."ClassName", "SiteTree_Live"."LastEdited", "SiteTree_Live"."Created", "SiteTree_Live"."Priority", "SiteTree_Live"."ShowListingImageOnPage", "SiteTree_Live"."ListingSummary", "SiteTree_Live"."SearchAudiencesSource", "SiteTree_Live"."SearchCategoriesSource", "SiteTree_Live"."SearchTagsSource", "SiteTree_Live"."CanViewType", "SiteTree_Live"."CanEditType", "SiteTree_Live"."Version", "SiteTree_Live"."URLSegment", "SiteTree_Live"."Title", "SiteTree_Live"."MenuTitle", "SiteTree_Live"."Content", "SiteTree_Live"."MetaDescription", "SiteTree_Live"."ExtraMeta", "SiteTree_Live"."ShowInMenus", "SiteTree_Live"."ShowInSearch", "SiteTree_Live"."Sort", "SiteTree_Live"."HasBrokenFile", "SiteTree_Live"."HasBrokenLink", "SiteTree_Live"."ReportClass", "SiteTree_Live"."ListingImageID", "SiteTree_Live"."ParentID", "SiteTree_Live"."ID", CASE WHEN "SiteTree_Live"."ClassName" IS NOT NULL THEN "SiteTree_Live"."ClassName" ELSE 'SilverStripe\\CMS\\Model\\SiteTree' END AS "RecordClassName" FROM "SiteTree_Live" WHERE ("SiteTree_Live"."ID" = ?) ORDER BY "SiteTree_Live"."Sort" ASC LIMIT 1 0.0006s
0018: SELECT DISTINCT "SiteTree_Live"."ClassName", "SiteTree_Live"."LastEdited", "SiteTree_Live"."Created", "SiteTree_Live"."Priority", "SiteTree_Live"."ShowListingImageOnPage", "SiteTree_Live"."ListingSummary", "SiteTree_Live"."SearchAudiencesSource", "SiteTree_Live"."SearchCategoriesSource", "SiteTree_Live"."SearchTagsSource", "SiteTree_Live"."CanViewType", "SiteTree_Live"."CanEditType", "SiteTree_Live"."Version", "SiteTree_Live"."URLSegment", "SiteTree_Live"."Title", "SiteTree_Live"."MenuTitle", "SiteTree_Live"."Content", "SiteTree_Live"."MetaDescription", "SiteTree_Live"."ExtraMeta", "SiteTree_Live"."ShowInMenus", "SiteTree_Live"."ShowInSearch", "SiteTree_Live"."Sort", "SiteTree_Live"."HasBrokenFile", "SiteTree_Live"."HasBrokenLink", "SiteTree_Live"."ReportClass", "SiteTree_Live"."ListingImageID", "SiteTree_Live"."ParentID", "SiteTree_Live"."ID", CASE WHEN "SiteTree_Live"."ClassName" IS NOT NULL THEN "SiteTree_Live"."ClassName" ELSE 'SilverStripe\\CMS\\Model\\SiteTree' END AS "RecordClassName" FROM "SiteTree_Live" WHERE ("SiteTree_Live"."ID" = ?) ORDER BY "SiteTree_Live"."Sort" ASC LIMIT 1 0.0005s
0019: SELECT DISTINCT "SiteTree_Live"."ClassName", "SiteTree_Live"."LastEdited", "SiteTree_Live"."Created", "SiteTree_Live"."Priority", "SiteTree_Live"."ShowListingImageOnPage", "SiteTree_Live"."ListingSummary", "SiteTree_Live"."SearchAudiencesSource", "SiteTree_Live"."SearchCategoriesSource", "SiteTree_Live"."SearchTagsSource", "SiteTree_Live"."CanViewType", "SiteTree_Live"."CanEditType", "SiteTree_Live"."Version", "SiteTree_Live"."URLSegment", "SiteTree_Live"."Title", "SiteTree_Live"."MenuTitle", "SiteTree_Live"."Content", "SiteTree_Live"."MetaDescription", "SiteTree_Live"."ExtraMeta", "SiteTree_Live"."ShowInMenus", "SiteTree_Live"."ShowInSearch", "SiteTree_Live"."Sort", "SiteTree_Live"."HasBrokenFile", "SiteTree_Live"."HasBrokenLink", "SiteTree_Live"."ReportClass", "SiteTree_Live"."ListingImageID", "SiteTree_Live"."ParentID", "SiteTree_Live"."ID", CASE WHEN "SiteTree_Live"."ClassName" IS NOT NULL THEN "SiteTree_Live"."ClassName" ELSE 'SilverStripe\\CMS\\Model\\SiteTree' END AS "RecordClassName" FROM "SiteTree_Live" WHERE ("SiteTree_Live"."ParentID" <> "SiteTree_Live"."ID") AND ("SiteTree_Live"."ParentID" = ?) AND ("SiteTree_Live"."ShowInMenus" = ?) ORDER BY "SiteTree_Live"."Sort" ASC 0.0007s
0020: SELECT DISTINCT "SiteTree_Live"."ClassName", "SiteTree_Live"."LastEdited", "SiteTree_Live"."Created", "SiteTree_Live"."Priority", "SiteTree_Live"."ShowListingImageOnPage", "SiteTree_Live"."ListingSummary", "SiteTree_Live"."SearchAudiencesSource", "SiteTree_Live"."SearchCategoriesSource", "SiteTree_Live"."SearchTagsSource", "SiteTree_Live"."CanViewType", "SiteTree_Live"."CanEditType", "SiteTree_Live"."Version", "SiteTree_Live"."URLSegment", "SiteTree_Live"."Title", "SiteTree_Live"."MenuTitle", "SiteTree_Live"."Content", "SiteTree_Live"."MetaDescription", "SiteTree_Live"."ExtraMeta", "SiteTree_Live"."ShowInMenus", "SiteTree_Live"."ShowInSearch", "SiteTree_Live"."Sort", "SiteTree_Live"."HasBrokenFile", "SiteTree_Live"."HasBrokenLink", "SiteTree_Live"."ReportClass", "SiteTree_Live"."ListingImageID", "SiteTree_Live"."ParentID", "SiteTree_Live"."ID", CASE WHEN "SiteTree_Live"."ClassName" IS NOT NULL THEN "SiteTree_Live"."ClassName" ELSE 'SilverStripe\\CMS\\Model\\SiteTree' END AS "RecordClassName" FROM "SiteTree_Live" WHERE ("SiteTree_Live"."ID" = ?) ORDER BY "SiteTree_Live"."Sort" ASC LIMIT 1 0.0005s
0021: SELECT DISTINCT "SiteTree_Live"."ClassName", "SiteTree_Live"."LastEdited", "SiteTree_Live"."Created", "SiteTree_Live"."Priority", "SiteTree_Live"."ShowListingImageOnPage", "SiteTree_Live"."ListingSummary", "SiteTree_Live"."SearchAudiencesSource", "SiteTree_Live"."SearchCategoriesSource", "SiteTree_Live"."SearchTagsSource", "SiteTree_Live"."CanViewType", "SiteTree_Live"."CanEditType", "SiteTree_Live"."Version", "SiteTree_Live"."URLSegment", "SiteTree_Live"."Title", "SiteTree_Live"."MenuTitle", "SiteTree_Live"."Content", "SiteTree_Live"."MetaDescription", "SiteTree_Live"."ExtraMeta", "SiteTree_Live"."ShowInMenus", "SiteTree_Live"."ShowInSearch", "SiteTree_Live"."Sort", "SiteTree_Live"."HasBrokenFile", "SiteTree_Live"."HasBrokenLink", "SiteTree_Live"."ReportClass", "SiteTree_Live"."ListingImageID", "SiteTree_Live"."ParentID", "SiteTree_Live"."ID", CASE WHEN "SiteTree_Live"."ClassName" IS NOT NULL THEN "SiteTree_Live"."ClassName" ELSE 'SilverStripe\\CMS\\Model\\SiteTree' END AS "RecordClassName" FROM "SiteTree_Live" WHERE ("SiteTree_Live"."ID" = ?) ORDER BY "SiteTree_Live"."Sort" ASC LIMIT 1 0.0005s
0022: SELECT DISTINCT "SiteTree_Live"."ClassName", "SiteTree_Live"."LastEdited", "SiteTree_Live"."Created", "SiteTree_Live"."Priority", "SiteTree_Live"."ShowListingImageOnPage", "SiteTree_Live"."ListingSummary", "SiteTree_Live"."SearchAudiencesSource", "SiteTree_Live"."SearchCategoriesSource", "SiteTree_Live"."SearchTagsSource", "SiteTree_Live"."CanViewType", "SiteTree_Live"."CanEditType", "SiteTree_Live"."Version", "SiteTree_Live"."URLSegment", "SiteTree_Live"."Title", "SiteTree_Live"."MenuTitle", "SiteTree_Live"."Content", "SiteTree_Live"."MetaDescription", "SiteTree_Live"."ExtraMeta", "SiteTree_Live"."ShowInMenus", "SiteTree_Live"."ShowInSearch", "SiteTree_Live"."Sort", "SiteTree_Live"."HasBrokenFile", "SiteTree_Live"."HasBrokenLink", "SiteTree_Live"."ReportClass", "SiteTree_Live"."ListingImageID", "SiteTree_Live"."ParentID", "SiteTree_Live"."ID", CASE WHEN "SiteTree_Live"."ClassName" IS NOT NULL THEN "SiteTree_Live"."ClassName" ELSE 'SilverStripe\\CMS\\Model\\SiteTree' END AS "RecordClassName" FROM "SiteTree_Live" WHERE ("SiteTree_Live"."ID" = ?) ORDER BY "SiteTree_Live"."Sort" ASC LIMIT 1 0.0005s
0023: SELECT DISTINCT "SiteTree_Live"."ClassName", "SiteTree_Live"."LastEdited", "SiteTree_Live"."Created", "SiteTree_Live"."Priority", "SiteTree_Live"."ShowListingImageOnPage", "SiteTree_Live"."ListingSummary", "SiteTree_Live"."SearchAudiencesSource", "SiteTree_Live"."SearchCategoriesSource", "SiteTree_Live"."SearchTagsSource", "SiteTree_Live"."CanViewType", "SiteTree_Live"."CanEditType", "SiteTree_Live"."Version", "SiteTree_Live"."URLSegment", "SiteTree_Live"."Title", "SiteTree_Live"."MenuTitle", "SiteTree_Live"."Content", "SiteTree_Live"."MetaDescription", "SiteTree_Live"."ExtraMeta", "SiteTree_Live"."ShowInMenus", "SiteTree_Live"."ShowInSearch", "SiteTree_Live"."Sort", "SiteTree_Live"."HasBrokenFile", "SiteTree_Live"."HasBrokenLink", "SiteTree_Live"."ReportClass", "SiteTree_Live"."ListingImageID", "SiteTree_Live"."ParentID", "SiteTree_Live"."ID", CASE WHEN "SiteTree_Live"."ClassName" IS NOT NULL THEN "SiteTree_Live"."ClassName" ELSE 'SilverStripe\\CMS\\Model\\SiteTree' END AS "RecordClassName" FROM "SiteTree_Live" WHERE ("SiteTree_Live"."ID" = ?) ORDER BY "SiteTree_Live"."Sort" ASC LIMIT 1 0.0005s
0024: SELECT DISTINCT "SiteTree_Live"."ClassName", "SiteTree_Live"."LastEdited", "SiteTree_Live"."Created", "RedirectorPage_Live"."RedirectionType", "RedirectorPage_Live"."ExternalURL", "RedirectorPage_Live"."LinkToID", CASE WHEN "SiteTree_Live"."ClassName" IN ('SilverStripe\\CMS\\Model\\SiteTree', 'Page', 'HomePage', 'MarketingPage', 'PortalPage', 'ProfilePage', 'ProfilesPage', 'SubHomePage', 'Internetrix\\IRXNews\\Model\\News', 'Internetrix\\IRXResources\\Pages\\AdvancedResourcePage', 'PurpleSpider\\BasicCalendar\\CalendarPage', 'SilverStripe\\ErrorPage\\ErrorPage', 'Internetrix\\ListingSummary\\Model\\ListingPage', 'SilverStripe\\CMS\\Model\\RedirectorPage', 'SilverStripe\\CMS\\Model\\VirtualPage', 'SilverStripe\\UserForms\\Model\\UserDefinedForm', 'CalendarPageIRX', 'Internetrix\\IRXNews\\Model\\NewsHolder', 'ContactPage', 'ExpensesFormPage', 'Internetrix\\IRXJobs\\Pages\\JobsPage') THEN "SiteTree_Live"."Version" WHEN "SiteTree_Live"."ClassName" IN ('Page', 'HomePage', 'MarketingPage', 'PortalPage', 'ProfilePage', 'ProfilesPage', 'SubHomePage', 'Internetrix\\IRXNews\\Model\\News', 'Internetrix\\IRXResources\\Pages\\AdvancedResourcePage', 'PurpleSpider\\BasicCalendar\\CalendarPage', 'SilverStripe\\ErrorPage\\ErrorPage', 'Internetrix\\ListingSummary\\Model\\ListingPage', 'SilverStripe\\CMS\\Model\\RedirectorPage', 'SilverStripe\\CMS\\Model\\VirtualPage', 'SilverStripe\\UserForms\\Model\\UserDefinedForm', 'CalendarPageIRX', 'Internetrix\\IRXNews\\Model\\NewsHolder', 'ContactPage', 'ExpensesFormPage', 'Internetrix\\IRXJobs\\Pages\\JobsPage') THEN "Page_Live"."Version" ELSE NULL END AS "Version", "SiteTree_Live"."ID", CASE WHEN "SiteTree_Live"."ClassName" IS NOT NULL THEN "SiteTree_Live"."ClassName" ELSE 'SilverStripe\\CMS\\Model\\SiteTree' END AS "RecordClassName", "SiteTree_Live"."Sort" FROM "SiteTree_Live" LEFT JOIN "Page_Live" ON "Page_Live"."ID" = "SiteTree_Live"."ID" LEFT JOIN "RedirectorPage_Live" ON "RedirectorPage_Live"."ID" = "SiteTree_Live"."ID" WHERE ("SiteTree_Live"."ID" = ?) AND ("SiteTree_Live"."ClassName" IN (?)) ORDER BY "SiteTree_Live"."Sort" ASC LIMIT 1 0.0011s
0025: SELECT DISTINCT "SiteTree_Live"."ClassName", "SiteTree_Live"."LastEdited", "SiteTree_Live"."Created", "SiteTree_Live"."Priority", "SiteTree_Live"."ShowListingImageOnPage", "SiteTree_Live"."ListingSummary", "SiteTree_Live"."SearchAudiencesSource", "SiteTree_Live"."SearchCategoriesSource", "SiteTree_Live"."SearchTagsSource", "SiteTree_Live"."CanViewType", "SiteTree_Live"."CanEditType", "SiteTree_Live"."Version", "SiteTree_Live"."URLSegment", "SiteTree_Live"."Title", "SiteTree_Live"."MenuTitle", "SiteTree_Live"."Content", "SiteTree_Live"."MetaDescription", "SiteTree_Live"."ExtraMeta", "SiteTree_Live"."ShowInMenus", "SiteTree_Live"."ShowInSearch", "SiteTree_Live"."Sort", "SiteTree_Live"."HasBrokenFile", "SiteTree_Live"."HasBrokenLink", "SiteTree_Live"."ReportClass", "SiteTree_Live"."ListingImageID", "SiteTree_Live"."ParentID", "SiteTree_Live"."ID", CASE WHEN "SiteTree_Live"."ClassName" IS NOT NULL THEN "SiteTree_Live"."ClassName" ELSE 'SilverStripe\\CMS\\Model\\SiteTree' END AS "RecordClassName" FROM "SiteTree_Live" WHERE ("SiteTree_Live"."ID" = ?) ORDER BY "SiteTree_Live"."Sort" ASC LIMIT 1 0.0008s
0026: SELECT DISTINCT "SiteTree_Live"."ClassName", "SiteTree_Live"."LastEdited", "SiteTree_Live"."Created", "SiteTree_Live"."Priority", "SiteTree_Live"."ShowListingImageOnPage", "SiteTree_Live"."ListingSummary", "SiteTree_Live"."SearchAudiencesSource", "SiteTree_Live"."SearchCategoriesSource", "SiteTree_Live"."SearchTagsSource", "SiteTree_Live"."CanViewType", "SiteTree_Live"."CanEditType", "SiteTree_Live"."Version", "SiteTree_Live"."URLSegment", "SiteTree_Live"."Title", "SiteTree_Live"."MenuTitle", "SiteTree_Live"."Content", "SiteTree_Live"."MetaDescription", "SiteTree_Live"."ExtraMeta", "SiteTree_Live"."ShowInMenus", "SiteTree_Live"."ShowInSearch", "SiteTree_Live"."Sort", "SiteTree_Live"."HasBrokenFile", "SiteTree_Live"."HasBrokenLink", "SiteTree_Live"."ReportClass", "SiteTree_Live"."ListingImageID", "SiteTree_Live"."ParentID", "SiteTree_Live"."ID", CASE WHEN "SiteTree_Live"."ClassName" IS NOT NULL THEN "SiteTree_Live"."ClassName" ELSE 'SilverStripe\\CMS\\Model\\SiteTree' END AS "RecordClassName" FROM "SiteTree_Live" WHERE ("SiteTree_Live"."ID" = ?) ORDER BY "SiteTree_Live"."Sort" ASC LIMIT 1 0.0005s
0027: SELECT DISTINCT "SiteTree_Live"."ClassName", "SiteTree_Live"."LastEdited", "SiteTree_Live"."Created", "SiteTree_Live"."Priority", "SiteTree_Live"."ShowListingImageOnPage", "SiteTree_Live"."ListingSummary", "SiteTree_Live"."SearchAudiencesSource", "SiteTree_Live"."SearchCategoriesSource", "SiteTree_Live"."SearchTagsSource", "SiteTree_Live"."CanViewType", "SiteTree_Live"."CanEditType", "SiteTree_Live"."Version", "SiteTree_Live"."URLSegment", "SiteTree_Live"."Title", "SiteTree_Live"."MenuTitle", "SiteTree_Live"."Content", "SiteTree_Live"."MetaDescription", "SiteTree_Live"."ExtraMeta", "SiteTree_Live"."ShowInMenus", "SiteTree_Live"."ShowInSearch", "SiteTree_Live"."Sort", "SiteTree_Live"."HasBrokenFile", "SiteTree_Live"."HasBrokenLink", "SiteTree_Live"."ReportClass", "SiteTree_Live"."ListingImageID", "SiteTree_Live"."ParentID", "SiteTree_Live"."ID", CASE WHEN "SiteTree_Live"."ClassName" IS NOT NULL THEN "SiteTree_Live"."ClassName" ELSE 'SilverStripe\\CMS\\Model\\SiteTree' END AS "RecordClassName" FROM "SiteTree_Live" WHERE ("SiteTree_Live"."ParentID" <> "SiteTree_Live"."ID") AND ("SiteTree_Live"."ParentID" = ?) AND ("SiteTree_Live"."ShowInMenus" = ?) ORDER BY "SiteTree_Live"."Sort" ASC 0.0007s
0028: SELECT DISTINCT "SiteTree_Live"."ClassName", "SiteTree_Live"."LastEdited", "SiteTree_Live"."Created", "SiteTree_Live"."Priority", "SiteTree_Live"."ShowListingImageOnPage", "SiteTree_Live"."ListingSummary", "SiteTree_Live"."SearchAudiencesSource", "SiteTree_Live"."SearchCategoriesSource", "SiteTree_Live"."SearchTagsSource", "SiteTree_Live"."CanViewType", "SiteTree_Live"."CanEditType", "SiteTree_Live"."Version", "SiteTree_Live"."URLSegment", "SiteTree_Live"."Title", "SiteTree_Live"."MenuTitle", "SiteTree_Live"."Content", "SiteTree_Live"."MetaDescription", "SiteTree_Live"."ExtraMeta", "SiteTree_Live"."ShowInMenus", "SiteTree_Live"."ShowInSearch", "SiteTree_Live"."Sort", "SiteTree_Live"."HasBrokenFile", "SiteTree_Live"."HasBrokenLink", "SiteTree_Live"."ReportClass", "SiteTree_Live"."ListingImageID", "SiteTree_Live"."ParentID", "SiteTree_Live"."ID", CASE WHEN "SiteTree_Live"."ClassName" IS NOT NULL THEN "SiteTree_Live"."ClassName" ELSE 'SilverStripe\\CMS\\Model\\SiteTree' END AS "RecordClassName" FROM "SiteTree_Live" WHERE ("SiteTree_Live"."ID" = ?) ORDER BY "SiteTree_Live"."Sort" ASC LIMIT 1 0.0006s
0029: SELECT DISTINCT "SiteTree_Live"."ClassName", "SiteTree_Live"."LastEdited", "SiteTree_Live"."Created", "SiteTree_Live"."Priority", "SiteTree_Live"."ShowListingImageOnPage", "SiteTree_Live"."ListingSummary", "SiteTree_Live"."SearchAudiencesSource", "SiteTree_Live"."SearchCategoriesSource", "SiteTree_Live"."SearchTagsSource", "SiteTree_Live"."CanViewType", "SiteTree_Live"."CanEditType", "SiteTree_Live"."Version", "SiteTree_Live"."URLSegment", "SiteTree_Live"."Title", "SiteTree_Live"."MenuTitle", "SiteTree_Live"."Content", "SiteTree_Live"."MetaDescription", "SiteTree_Live"."ExtraMeta", "SiteTree_Live"."ShowInMenus", "SiteTree_Live"."ShowInSearch", "SiteTree_Live"."Sort", "SiteTree_Live"."HasBrokenFile", "SiteTree_Live"."HasBrokenLink", "SiteTree_Live"."ReportClass", "SiteTree_Live"."ListingImageID", "SiteTree_Live"."ParentID", "SiteTree_Live"."ID", CASE WHEN "SiteTree_Live"."ClassName" IS NOT NULL THEN "SiteTree_Live"."ClassName" ELSE 'SilverStripe\\CMS\\Model\\SiteTree' END AS "RecordClassName" FROM "SiteTree_Live" WHERE ("SiteTree_Live"."ID" = ?) ORDER BY "SiteTree_Live"."Sort" ASC LIMIT 1 0.0005s
0030: SELECT DISTINCT "SiteTree_Live"."ClassName", "SiteTree_Live"."LastEdited", "SiteTree_Live"."Created", "SiteTree_Live"."Priority", "SiteTree_Live"."ShowListingImageOnPage", "SiteTree_Live"."ListingSummary", "SiteTree_Live"."SearchAudiencesSource", "SiteTree_Live"."SearchCategoriesSource", "SiteTree_Live"."SearchTagsSource", "SiteTree_Live"."CanViewType", "SiteTree_Live"."CanEditType", "SiteTree_Live"."Version", "SiteTree_Live"."URLSegment", "SiteTree_Live"."Title", "SiteTree_Live"."MenuTitle", "SiteTree_Live"."Content", "SiteTree_Live"."MetaDescription", "SiteTree_Live"."ExtraMeta", "SiteTree_Live"."ShowInMenus", "SiteTree_Live"."ShowInSearch", "SiteTree_Live"."Sort", "SiteTree_Live"."HasBrokenFile", "SiteTree_Live"."HasBrokenLink", "SiteTree_Live"."ReportClass", "SiteTree_Live"."ListingImageID", "SiteTree_Live"."ParentID", "SiteTree_Live"."ID", CASE WHEN "SiteTree_Live"."ClassName" IS NOT NULL THEN "SiteTree_Live"."ClassName" ELSE 'SilverStripe\\CMS\\Model\\SiteTree' END AS "RecordClassName" FROM "SiteTree_Live" WHERE ("SiteTree_Live"."ID" = ?) ORDER BY "SiteTree_Live"."Sort" ASC LIMIT 1 0.0005s
0031: SELECT DISTINCT "SiteTree_Live"."ClassName", "SiteTree_Live"."LastEdited", "SiteTree_Live"."Created", "SiteTree_Live"."Priority", "SiteTree_Live"."ShowListingImageOnPage", "SiteTree_Live"."ListingSummary", "SiteTree_Live"."SearchAudiencesSource", "SiteTree_Live"."SearchCategoriesSource", "SiteTree_Live"."SearchTagsSource", "SiteTree_Live"."CanViewType", "SiteTree_Live"."CanEditType", "SiteTree_Live"."Version", "SiteTree_Live"."URLSegment", "SiteTree_Live"."Title", "SiteTree_Live"."MenuTitle", "SiteTree_Live"."Content", "SiteTree_Live"."MetaDescription", "SiteTree_Live"."ExtraMeta", "SiteTree_Live"."ShowInMenus", "SiteTree_Live"."ShowInSearch", "SiteTree_Live"."Sort", "SiteTree_Live"."HasBrokenFile", "SiteTree_Live"."HasBrokenLink", "SiteTree_Live"."ReportClass", "SiteTree_Live"."ListingImageID", "SiteTree_Live"."ParentID", "SiteTree_Live"."ID", CASE WHEN "SiteTree_Live"."ClassName" IS NOT NULL THEN "SiteTree_Live"."ClassName" ELSE 'SilverStripe\\CMS\\Model\\SiteTree' END AS "RecordClassName" FROM "SiteTree_Live" WHERE ("SiteTree_Live"."ID" = ?) ORDER BY "SiteTree_Live"."Sort" ASC LIMIT 1 0.0005s
0032: SELECT DISTINCT "SiteTree_Live"."ClassName", "SiteTree_Live"."LastEdited", "SiteTree_Live"."Created", "RedirectorPage_Live"."RedirectionType", "RedirectorPage_Live"."ExternalURL", "RedirectorPage_Live"."LinkToID", CASE WHEN "SiteTree_Live"."ClassName" IN ('SilverStripe\\CMS\\Model\\SiteTree', 'Page', 'HomePage', 'MarketingPage', 'PortalPage', 'ProfilePage', 'ProfilesPage', 'SubHomePage', 'Internetrix\\IRXNews\\Model\\News', 'Internetrix\\IRXResources\\Pages\\AdvancedResourcePage', 'PurpleSpider\\BasicCalendar\\CalendarPage', 'SilverStripe\\ErrorPage\\ErrorPage', 'Internetrix\\ListingSummary\\Model\\ListingPage', 'SilverStripe\\CMS\\Model\\RedirectorPage', 'SilverStripe\\CMS\\Model\\VirtualPage', 'SilverStripe\\UserForms\\Model\\UserDefinedForm', 'CalendarPageIRX', 'Internetrix\\IRXNews\\Model\\NewsHolder', 'ContactPage', 'ExpensesFormPage', 'Internetrix\\IRXJobs\\Pages\\JobsPage') THEN "SiteTree_Live"."Version" WHEN "SiteTree_Live"."ClassName" IN ('Page', 'HomePage', 'MarketingPage', 'PortalPage', 'ProfilePage', 'ProfilesPage', 'SubHomePage', 'Internetrix\\IRXNews\\Model\\News', 'Internetrix\\IRXResources\\Pages\\AdvancedResourcePage', 'PurpleSpider\\BasicCalendar\\CalendarPage', 'SilverStripe\\ErrorPage\\ErrorPage', 'Internetrix\\ListingSummary\\Model\\ListingPage', 'SilverStripe\\CMS\\Model\\RedirectorPage', 'SilverStripe\\CMS\\Model\\VirtualPage', 'SilverStripe\\UserForms\\Model\\UserDefinedForm', 'CalendarPageIRX', 'Internetrix\\IRXNews\\Model\\NewsHolder', 'ContactPage', 'ExpensesFormPage', 'Internetrix\\IRXJobs\\Pages\\JobsPage') THEN "Page_Live"."Version" ELSE NULL END AS "Version", "SiteTree_Live"."ID", CASE WHEN "SiteTree_Live"."ClassName" IS NOT NULL THEN "SiteTree_Live"."ClassName" ELSE 'SilverStripe\\CMS\\Model\\SiteTree' END AS "RecordClassName", "SiteTree_Live"."Sort" FROM "SiteTree_Live" LEFT JOIN "Page_Live" ON "Page_Live"."ID" = "SiteTree_Live"."ID" LEFT JOIN "RedirectorPage_Live" ON "RedirectorPage_Live"."ID" = "SiteTree_Live"."ID" WHERE ("SiteTree_Live"."ID" = ?) AND ("SiteTree_Live"."ClassName" IN (?)) ORDER BY "SiteTree_Live"."Sort" ASC LIMIT 1 0.0007s
0033: SELECT DISTINCT "SiteTree_Live"."ClassName", "SiteTree_Live"."LastEdited", "SiteTree_Live"."Created", "SiteTree_Live"."Priority", "SiteTree_Live"."ShowListingImageOnPage", "SiteTree_Live"."ListingSummary", "SiteTree_Live"."SearchAudiencesSource", "SiteTree_Live"."SearchCategoriesSource", "SiteTree_Live"."SearchTagsSource", "SiteTree_Live"."CanViewType", "SiteTree_Live"."CanEditType", "SiteTree_Live"."Version", "SiteTree_Live"."URLSegment", "SiteTree_Live"."Title", "SiteTree_Live"."MenuTitle", "SiteTree_Live"."Content", "SiteTree_Live"."MetaDescription", "SiteTree_Live"."ExtraMeta", "SiteTree_Live"."ShowInMenus", "SiteTree_Live"."ShowInSearch", "SiteTree_Live"."Sort", "SiteTree_Live"."HasBrokenFile", "SiteTree_Live"."HasBrokenLink", "SiteTree_Live"."ReportClass", "SiteTree_Live"."ListingImageID", "SiteTree_Live"."ParentID", "SiteTree_Live"."ID", CASE WHEN "SiteTree_Live"."ClassName" IS NOT NULL THEN "SiteTree_Live"."ClassName" ELSE 'SilverStripe\\CMS\\Model\\SiteTree' END AS "RecordClassName" FROM "SiteTree_Live" WHERE ("SiteTree_Live"."ID" = ?) ORDER BY "SiteTree_Live"."Sort" ASC LIMIT 1 0.0006s
0034: SELECT DISTINCT "SiteTree_Live"."ClassName", "SiteTree_Live"."LastEdited", "SiteTree_Live"."Created", "SiteTree_Live"."Priority", "SiteTree_Live"."ShowListingImageOnPage", "SiteTree_Live"."ListingSummary", "SiteTree_Live"."SearchAudiencesSource", "SiteTree_Live"."SearchCategoriesSource", "SiteTree_Live"."SearchTagsSource", "SiteTree_Live"."CanViewType", "SiteTree_Live"."CanEditType", "SiteTree_Live"."Version", "SiteTree_Live"."URLSegment", "SiteTree_Live"."Title", "SiteTree_Live"."MenuTitle", "SiteTree_Live"."Content", "SiteTree_Live"."MetaDescription", "SiteTree_Live"."ExtraMeta", "SiteTree_Live"."ShowInMenus", "SiteTree_Live"."ShowInSearch", "SiteTree_Live"."Sort", "SiteTree_Live"."HasBrokenFile", "SiteTree_Live"."HasBrokenLink", "SiteTree_Live"."ReportClass", "SiteTree_Live"."ListingImageID", "SiteTree_Live"."ParentID", "SiteTree_Live"."ID", CASE WHEN "SiteTree_Live"."ClassName" IS NOT NULL THEN "SiteTree_Live"."ClassName" ELSE 'SilverStripe\\CMS\\Model\\SiteTree' END AS "RecordClassName" FROM "SiteTree_Live" WHERE ("SiteTree_Live"."ParentID" <> "SiteTree_Live"."ID") AND ("SiteTree_Live"."ParentID" = ?) AND ("SiteTree_Live"."ShowInMenus" = ?) ORDER BY "SiteTree_Live"."Sort" ASC 0.0007s
0035: SELECT DISTINCT "SiteTree_Live"."ClassName", "SiteTree_Live"."LastEdited", "SiteTree_Live"."Created", "SiteTree_Live"."Priority", "SiteTree_Live"."ShowListingImageOnPage", "SiteTree_Live"."ListingSummary", "SiteTree_Live"."SearchAudiencesSource", "SiteTree_Live"."SearchCategoriesSource", "SiteTree_Live"."SearchTagsSource", "SiteTree_Live"."CanViewType", "SiteTree_Live"."CanEditType", "SiteTree_Live"."Version", "SiteTree_Live"."URLSegment", "SiteTree_Live"."Title", "SiteTree_Live"."MenuTitle", "SiteTree_Live"."Content", "SiteTree_Live"."MetaDescription", "SiteTree_Live"."ExtraMeta", "SiteTree_Live"."ShowInMenus", "SiteTree_Live"."ShowInSearch", "SiteTree_Live"."Sort", "SiteTree_Live"."HasBrokenFile", "SiteTree_Live"."HasBrokenLink", "SiteTree_Live"."ReportClass", "SiteTree_Live"."ListingImageID", "SiteTree_Live"."ParentID", "SiteTree_Live"."ID", CASE WHEN "SiteTree_Live"."ClassName" IS NOT NULL THEN "SiteTree_Live"."ClassName" ELSE 'SilverStripe\\CMS\\Model\\SiteTree' END AS "RecordClassName" FROM "SiteTree_Live" WHERE ("SiteTree_Live"."ParentID" <> "SiteTree_Live"."ID") AND ("SiteTree_Live"."ParentID" = ?) AND ("SiteTree_Live"."ShowInMenus" = ?) ORDER BY "SiteTree_Live"."Sort" ASC 0.0006s
0036: SELECT DISTINCT "SiteTree_Live"."ClassName", "SiteTree_Live"."LastEdited", "SiteTree_Live"."Created", "SiteTree_Live"."Priority", "SiteTree_Live"."ShowListingImageOnPage", "SiteTree_Live"."ListingSummary", "SiteTree_Live"."SearchAudiencesSource", "SiteTree_Live"."SearchCategoriesSource", "SiteTree_Live"."SearchTagsSource", "SiteTree_Live"."CanViewType", "SiteTree_Live"."CanEditType", "SiteTree_Live"."Version", "SiteTree_Live"."URLSegment", "SiteTree_Live"."Title", "SiteTree_Live"."MenuTitle", "SiteTree_Live"."Content", "SiteTree_Live"."MetaDescription", "SiteTree_Live"."ExtraMeta", "SiteTree_Live"."ShowInMenus", "SiteTree_Live"."ShowInSearch", "SiteTree_Live"."Sort", "SiteTree_Live"."HasBrokenFile", "SiteTree_Live"."HasBrokenLink", "SiteTree_Live"."ReportClass", "SiteTree_Live"."ListingImageID", "SiteTree_Live"."ParentID", "SiteTree_Live"."ID", CASE WHEN "SiteTree_Live"."ClassName" IS NOT NULL THEN "SiteTree_Live"."ClassName" ELSE 'SilverStripe\\CMS\\Model\\SiteTree' END AS "RecordClassName" FROM "SiteTree_Live" WHERE ("SiteTree_Live"."ID" = ?) ORDER BY "SiteTree_Live"."Sort" ASC LIMIT 1 0.0005s
0037: SELECT DISTINCT "SiteTree_Live"."ClassName", "SiteTree_Live"."LastEdited", "SiteTree_Live"."Created", "SiteTree_Live"."Priority", "SiteTree_Live"."ShowListingImageOnPage", "SiteTree_Live"."ListingSummary", "SiteTree_Live"."SearchAudiencesSource", "SiteTree_Live"."SearchCategoriesSource", "SiteTree_Live"."SearchTagsSource", "SiteTree_Live"."CanViewType", "SiteTree_Live"."CanEditType", "SiteTree_Live"."Version", "SiteTree_Live"."URLSegment", "SiteTree_Live"."Title", "SiteTree_Live"."MenuTitle", "SiteTree_Live"."Content", "SiteTree_Live"."MetaDescription", "SiteTree_Live"."ExtraMeta", "SiteTree_Live"."ShowInMenus", "SiteTree_Live"."ShowInSearch", "SiteTree_Live"."Sort", "SiteTree_Live"."HasBrokenFile", "SiteTree_Live"."HasBrokenLink", "SiteTree_Live"."ReportClass", "SiteTree_Live"."ListingImageID", "SiteTree_Live"."ParentID", "SiteTree_Live"."ID", CASE WHEN "SiteTree_Live"."ClassName" IS NOT NULL THEN "SiteTree_Live"."ClassName" ELSE 'SilverStripe\\CMS\\Model\\SiteTree' END AS "RecordClassName" FROM "SiteTree_Live" WHERE ("SiteTree_Live"."ID" = ?) ORDER BY "SiteTree_Live"."Sort" ASC LIMIT 1 0.0004s
0038: SELECT DISTINCT "SiteTree_Live"."ClassName", "SiteTree_Live"."LastEdited", "SiteTree_Live"."Created", "SiteTree_Live"."Priority", "SiteTree_Live"."ShowListingImageOnPage", "SiteTree_Live"."ListingSummary", "SiteTree_Live"."SearchAudiencesSource", "SiteTree_Live"."SearchCategoriesSource", "SiteTree_Live"."SearchTagsSource", "SiteTree_Live"."CanViewType", "SiteTree_Live"."CanEditType", "SiteTree_Live"."Version", "SiteTree_Live"."URLSegment", "SiteTree_Live"."Title", "SiteTree_Live"."MenuTitle", "SiteTree_Live"."Content", "SiteTree_Live"."MetaDescription", "SiteTree_Live"."ExtraMeta", "SiteTree_Live"."ShowInMenus", "SiteTree_Live"."ShowInSearch", "SiteTree_Live"."Sort", "SiteTree_Live"."HasBrokenFile", "SiteTree_Live"."HasBrokenLink", "SiteTree_Live"."ReportClass", "SiteTree_Live"."ListingImageID", "SiteTree_Live"."ParentID", "SiteTree_Live"."ID", CASE WHEN "SiteTree_Live"."ClassName" IS NOT NULL THEN "SiteTree_Live"."ClassName" ELSE 'SilverStripe\\CMS\\Model\\SiteTree' END AS "RecordClassName" FROM "SiteTree_Live" WHERE ("SiteTree_Live"."ParentID" <> "SiteTree_Live"."ID") AND ("SiteTree_Live"."ParentID" = ?) AND ("SiteTree_Live"."ShowInMenus" = ?) ORDER BY "SiteTree_Live"."Sort" ASC 0.0006s
0039: SELECT DISTINCT "SiteTree_Live"."ClassName", "SiteTree_Live"."LastEdited", "SiteTree_Live"."Created", "SiteTree_Live"."Priority", "SiteTree_Live"."ShowListingImageOnPage", "SiteTree_Live"."ListingSummary", "SiteTree_Live"."SearchAudiencesSource", "SiteTree_Live"."SearchCategoriesSource", "SiteTree_Live"."SearchTagsSource", "SiteTree_Live"."CanViewType", "SiteTree_Live"."CanEditType", "SiteTree_Live"."Version", "SiteTree_Live"."URLSegment", "SiteTree_Live"."Title", "SiteTree_Live"."MenuTitle", "SiteTree_Live"."Content", "SiteTree_Live"."MetaDescription", "SiteTree_Live"."ExtraMeta", "SiteTree_Live"."ShowInMenus", "SiteTree_Live"."ShowInSearch", "SiteTree_Live"."Sort", "SiteTree_Live"."HasBrokenFile", "SiteTree_Live"."HasBrokenLink", "SiteTree_Live"."ReportClass", "SiteTree_Live"."ListingImageID", "SiteTree_Live"."ParentID", "SiteTree_Live"."ID", CASE WHEN "SiteTree_Live"."ClassName" IS NOT NULL THEN "SiteTree_Live"."ClassName" ELSE 'SilverStripe\\CMS\\Model\\SiteTree' END AS "RecordClassName" FROM "SiteTree_Live" WHERE ("SiteTree_Live"."ID" = ?) ORDER BY "SiteTree_Live"."Sort" ASC LIMIT 1 0.0006s
0040: SELECT DISTINCT "SiteTree_Live"."ClassName", "SiteTree_Live"."LastEdited", "SiteTree_Live"."Created", "SiteTree_Live"."Priority", "SiteTree_Live"."ShowListingImageOnPage", "SiteTree_Live"."ListingSummary", "SiteTree_Live"."SearchAudiencesSource", "SiteTree_Live"."SearchCategoriesSource", "SiteTree_Live"."SearchTagsSource", "SiteTree_Live"."CanViewType", "SiteTree_Live"."CanEditType", "SiteTree_Live"."Version", "SiteTree_Live"."URLSegment", "SiteTree_Live"."Title", "SiteTree_Live"."MenuTitle", "SiteTree_Live"."Content", "SiteTree_Live"."MetaDescription", "SiteTree_Live"."ExtraMeta", "SiteTree_Live"."ShowInMenus", "SiteTree_Live"."ShowInSearch", "SiteTree_Live"."Sort", "SiteTree_Live"."HasBrokenFile", "SiteTree_Live"."HasBrokenLink", "SiteTree_Live"."ReportClass", "SiteTree_Live"."ListingImageID", "SiteTree_Live"."ParentID", "SiteTree_Live"."ID", CASE WHEN "SiteTree_Live"."ClassName" IS NOT NULL THEN "SiteTree_Live"."ClassName" ELSE 'SilverStripe\\CMS\\Model\\SiteTree' END AS "RecordClassName" FROM "SiteTree_Live" WHERE ("SiteTree_Live"."ID" = ?) ORDER BY "SiteTree_Live"."Sort" ASC LIMIT 1 0.0005s
0041: SELECT DISTINCT "SiteTree_Live"."ClassName", "SiteTree_Live"."LastEdited", "SiteTree_Live"."Created", "SiteTree_Live"."Priority", "SiteTree_Live"."ShowListingImageOnPage", "SiteTree_Live"."ListingSummary", "SiteTree_Live"."SearchAudiencesSource", "SiteTree_Live"."SearchCategoriesSource", "SiteTree_Live"."SearchTagsSource", "SiteTree_Live"."CanViewType", "SiteTree_Live"."CanEditType", "SiteTree_Live"."Version", "SiteTree_Live"."URLSegment", "SiteTree_Live"."Title", "SiteTree_Live"."MenuTitle", "SiteTree_Live"."Content", "SiteTree_Live"."MetaDescription", "SiteTree_Live"."ExtraMeta", "SiteTree_Live"."ShowInMenus", "SiteTree_Live"."ShowInSearch", "SiteTree_Live"."Sort", "SiteTree_Live"."HasBrokenFile", "SiteTree_Live"."HasBrokenLink", "SiteTree_Live"."ReportClass", "SiteTree_Live"."ListingImageID", "SiteTree_Live"."ParentID", "SiteTree_Live"."ID", CASE WHEN "SiteTree_Live"."ClassName" IS NOT NULL THEN "SiteTree_Live"."ClassName" ELSE 'SilverStripe\\CMS\\Model\\SiteTree' END AS "RecordClassName" FROM "SiteTree_Live" WHERE ("SiteTree_Live"."ID" = ?) ORDER BY "SiteTree_Live"."Sort" ASC LIMIT 1 0.0005s
0042: SELECT DISTINCT "SiteTree_Live"."ClassName", "SiteTree_Live"."LastEdited", "SiteTree_Live"."Created", "SiteTree_Live"."Priority", "SiteTree_Live"."ShowListingImageOnPage", "SiteTree_Live"."ListingSummary", "SiteTree_Live"."SearchAudiencesSource", "SiteTree_Live"."SearchCategoriesSource", "SiteTree_Live"."SearchTagsSource", "SiteTree_Live"."CanViewType", "SiteTree_Live"."CanEditType", "SiteTree_Live"."Version", "SiteTree_Live"."URLSegment", "SiteTree_Live"."Title", "SiteTree_Live"."MenuTitle", "SiteTree_Live"."Content", "SiteTree_Live"."MetaDescription", "SiteTree_Live"."ExtraMeta", "SiteTree_Live"."ShowInMenus", "SiteTree_Live"."ShowInSearch", "SiteTree_Live"."Sort", "SiteTree_Live"."HasBrokenFile", "SiteTree_Live"."HasBrokenLink", "SiteTree_Live"."ReportClass", "SiteTree_Live"."ListingImageID", "SiteTree_Live"."ParentID", "SiteTree_Live"."ID", CASE WHEN "SiteTree_Live"."ClassName" IS NOT NULL THEN "SiteTree_Live"."ClassName" ELSE 'SilverStripe\\CMS\\Model\\SiteTree' END AS "RecordClassName" FROM "SiteTree_Live" WHERE ("SiteTree_Live"."ID" = ?) ORDER BY "SiteTree_Live"."Sort" ASC LIMIT 1 0.0004s
0043: SELECT DISTINCT "SiteTree_Live"."ClassName", "SiteTree_Live"."LastEdited", "SiteTree_Live"."Created", "SiteTree_Live"."Priority", "SiteTree_Live"."ShowListingImageOnPage", "SiteTree_Live"."ListingSummary", "SiteTree_Live"."SearchAudiencesSource", "SiteTree_Live"."SearchCategoriesSource", "SiteTree_Live"."SearchTagsSource", "SiteTree_Live"."CanViewType", "SiteTree_Live"."CanEditType", "SiteTree_Live"."Version", "SiteTree_Live"."URLSegment", "SiteTree_Live"."Title", "SiteTree_Live"."MenuTitle", "SiteTree_Live"."Content", "SiteTree_Live"."MetaDescription", "SiteTree_Live"."ExtraMeta", "SiteTree_Live"."ShowInMenus", "SiteTree_Live"."ShowInSearch", "SiteTree_Live"."Sort", "SiteTree_Live"."HasBrokenFile", "SiteTree_Live"."HasBrokenLink", "SiteTree_Live"."ReportClass", "SiteTree_Live"."ListingImageID", "SiteTree_Live"."ParentID", "SiteTree_Live"."ID", CASE WHEN "SiteTree_Live"."ClassName" IS NOT NULL THEN "SiteTree_Live"."ClassName" ELSE 'SilverStripe\\CMS\\Model\\SiteTree' END AS "RecordClassName" FROM "SiteTree_Live" WHERE ("SiteTree_Live"."ID" = ?) ORDER BY "SiteTree_Live"."Sort" ASC LIMIT 1 0.0004s
0044: SELECT DISTINCT "SiteTree_Live"."ClassName", "SiteTree_Live"."LastEdited", "SiteTree_Live"."Created", "SiteTree_Live"."Priority", "SiteTree_Live"."ShowListingImageOnPage", "SiteTree_Live"."ListingSummary", "SiteTree_Live"."SearchAudiencesSource", "SiteTree_Live"."SearchCategoriesSource", "SiteTree_Live"."SearchTagsSource", "SiteTree_Live"."CanViewType", "SiteTree_Live"."CanEditType", "SiteTree_Live"."Version", "SiteTree_Live"."URLSegment", "SiteTree_Live"."Title", "SiteTree_Live"."MenuTitle", "SiteTree_Live"."Content", "SiteTree_Live"."MetaDescription", "SiteTree_Live"."ExtraMeta", "SiteTree_Live"."ShowInMenus", "SiteTree_Live"."ShowInSearch", "SiteTree_Live"."Sort", "SiteTree_Live"."HasBrokenFile", "SiteTree_Live"."HasBrokenLink", "SiteTree_Live"."ReportClass", "SiteTree_Live"."ListingImageID", "SiteTree_Live"."ParentID", "SiteTree_Live"."ID", CASE WHEN "SiteTree_Live"."ClassName" IS NOT NULL THEN "SiteTree_Live"."ClassName" ELSE 'SilverStripe\\CMS\\Model\\SiteTree' END AS "RecordClassName" FROM "SiteTree_Live" WHERE ("SiteTree_Live"."ParentID" <> "SiteTree_Live"."ID") AND ("SiteTree_Live"."ParentID" = ?) AND ("SiteTree_Live"."ShowInMenus" = ?) ORDER BY "SiteTree_Live"."Sort" ASC 0.0005s
0045: SELECT DISTINCT "SiteTree_Live"."ClassName", "SiteTree_Live"."LastEdited", "SiteTree_Live"."Created", "SiteTree_Live"."Priority", "SiteTree_Live"."ShowListingImageOnPage", "SiteTree_Live"."ListingSummary", "SiteTree_Live"."SearchAudiencesSource", "SiteTree_Live"."SearchCategoriesSource", "SiteTree_Live"."SearchTagsSource", "SiteTree_Live"."CanViewType", "SiteTree_Live"."CanEditType", "SiteTree_Live"."Version", "SiteTree_Live"."URLSegment", "SiteTree_Live"."Title", "SiteTree_Live"."MenuTitle", "SiteTree_Live"."Content", "SiteTree_Live"."MetaDescription", "SiteTree_Live"."ExtraMeta", "SiteTree_Live"."ShowInMenus", "SiteTree_Live"."ShowInSearch", "SiteTree_Live"."Sort", "SiteTree_Live"."HasBrokenFile", "SiteTree_Live"."HasBrokenLink", "SiteTree_Live"."ReportClass", "SiteTree_Live"."ListingImageID", "SiteTree_Live"."ParentID", "SiteTree_Live"."ID", CASE WHEN "SiteTree_Live"."ClassName" IS NOT NULL THEN "SiteTree_Live"."ClassName" ELSE 'SilverStripe\\CMS\\Model\\SiteTree' END AS "RecordClassName" FROM "SiteTree_Live" WHERE ("SiteTree_Live"."ParentID" <> "SiteTree_Live"."ID") AND ("SiteTree_Live"."ParentID" = ?) AND ("SiteTree_Live"."ShowInMenus" = ?) ORDER BY "SiteTree_Live"."Sort" ASC 0.0006s
0046: SELECT DISTINCT "SiteTree_Live"."ClassName", "SiteTree_Live"."LastEdited", "SiteTree_Live"."Created", "SiteTree_Live"."Priority", "SiteTree_Live"."ShowListingImageOnPage", "SiteTree_Live"."ListingSummary", "SiteTree_Live"."SearchAudiencesSource", "SiteTree_Live"."SearchCategoriesSource", "SiteTree_Live"."SearchTagsSource", "SiteTree_Live"."CanViewType", "SiteTree_Live"."CanEditType", "SiteTree_Live"."Version", "SiteTree_Live"."URLSegment", "SiteTree_Live"."Title", "SiteTree_Live"."MenuTitle", "SiteTree_Live"."Content", "SiteTree_Live"."MetaDescription", "SiteTree_Live"."ExtraMeta", "SiteTree_Live"."ShowInMenus", "SiteTree_Live"."ShowInSearch", "SiteTree_Live"."Sort", "SiteTree_Live"."HasBrokenFile", "SiteTree_Live"."HasBrokenLink", "SiteTree_Live"."ReportClass", "SiteTree_Live"."ListingImageID", "SiteTree_Live"."ParentID", "SiteTree_Live"."ID", CASE WHEN "SiteTree_Live"."ClassName" IS NOT NULL THEN "SiteTree_Live"."ClassName" ELSE 'SilverStripe\\CMS\\Model\\SiteTree' END AS "RecordClassName" FROM "SiteTree_Live" WHERE ("SiteTree_Live"."ID" = ?) ORDER BY "SiteTree_Live"."Sort" ASC LIMIT 1 0.0005s
0047: SELECT DISTINCT "SiteTree_Live"."ClassName", "SiteTree_Live"."LastEdited", "SiteTree_Live"."Created", "SiteTree_Live"."Priority", "SiteTree_Live"."ShowListingImageOnPage", "SiteTree_Live"."ListingSummary", "SiteTree_Live"."SearchAudiencesSource", "SiteTree_Live"."SearchCategoriesSource", "SiteTree_Live"."SearchTagsSource", "SiteTree_Live"."CanViewType", "SiteTree_Live"."CanEditType", "SiteTree_Live"."Version", "SiteTree_Live"."URLSegment", "SiteTree_Live"."Title", "SiteTree_Live"."MenuTitle", "SiteTree_Live"."Content", "SiteTree_Live"."MetaDescription", "SiteTree_Live"."ExtraMeta", "SiteTree_Live"."ShowInMenus", "SiteTree_Live"."ShowInSearch", "SiteTree_Live"."Sort", "SiteTree_Live"."HasBrokenFile", "SiteTree_Live"."HasBrokenLink", "SiteTree_Live"."ReportClass", "SiteTree_Live"."ListingImageID", "SiteTree_Live"."ParentID", "SiteTree_Live"."ID", CASE WHEN "SiteTree_Live"."ClassName" IS NOT NULL THEN "SiteTree_Live"."ClassName" ELSE 'SilverStripe\\CMS\\Model\\SiteTree' END AS "RecordClassName" FROM "SiteTree_Live" WHERE ("SiteTree_Live"."ID" = ?) ORDER BY "SiteTree_Live"."Sort" ASC LIMIT 1 0.0005s
0048: SELECT DISTINCT "SiteTree_Live"."ClassName", "SiteTree_Live"."LastEdited", "SiteTree_Live"."Created", "SiteTree_Live"."Priority", "SiteTree_Live"."ShowListingImageOnPage", "SiteTree_Live"."ListingSummary", "SiteTree_Live"."SearchAudiencesSource", "SiteTree_Live"."SearchCategoriesSource", "SiteTree_Live"."SearchTagsSource", "SiteTree_Live"."CanViewType", "SiteTree_Live"."CanEditType", "SiteTree_Live"."Version", "SiteTree_Live"."URLSegment", "SiteTree_Live"."Title", "SiteTree_Live"."MenuTitle", "SiteTree_Live"."Content", "SiteTree_Live"."MetaDescription", "SiteTree_Live"."ExtraMeta", "SiteTree_Live"."ShowInMenus", "SiteTree_Live"."ShowInSearch", "SiteTree_Live"."Sort", "SiteTree_Live"."HasBrokenFile", "SiteTree_Live"."HasBrokenLink", "SiteTree_Live"."ReportClass", "SiteTree_Live"."ListingImageID", "SiteTree_Live"."ParentID", "SiteTree_Live"."ID", CASE WHEN "SiteTree_Live"."ClassName" IS NOT NULL THEN "SiteTree_Live"."ClassName" ELSE 'SilverStripe\\CMS\\Model\\SiteTree' END AS "RecordClassName" FROM "SiteTree_Live" WHERE ("SiteTree_Live"."ID" = ?) ORDER BY "SiteTree_Live"."Sort" ASC LIMIT 1 0.0005s
0049: SELECT DISTINCT "SiteTree_Live"."ClassName", "SiteTree_Live"."LastEdited", "SiteTree_Live"."Created", "SiteTree_Live"."Priority", "SiteTree_Live"."ShowListingImageOnPage", "SiteTree_Live"."ListingSummary", "SiteTree_Live"."SearchAudiencesSource", "SiteTree_Live"."SearchCategoriesSource", "SiteTree_Live"."SearchTagsSource", "SiteTree_Live"."CanViewType", "SiteTree_Live"."CanEditType", "SiteTree_Live"."Version", "SiteTree_Live"."URLSegment", "SiteTree_Live"."Title", "SiteTree_Live"."MenuTitle", "SiteTree_Live"."Content", "SiteTree_Live"."MetaDescription", "SiteTree_Live"."ExtraMeta", "SiteTree_Live"."ShowInMenus", "SiteTree_Live"."ShowInSearch", "SiteTree_Live"."Sort", "SiteTree_Live"."HasBrokenFile", "SiteTree_Live"."HasBrokenLink", "SiteTree_Live"."ReportClass", "SiteTree_Live"."ListingImageID", "SiteTree_Live"."ParentID", "SiteTree_Live"."ID", CASE WHEN "SiteTree_Live"."ClassName" IS NOT NULL THEN "SiteTree_Live"."ClassName" ELSE 'SilverStripe\\CMS\\Model\\SiteTree' END AS "RecordClassName" FROM "SiteTree_Live" WHERE ("SiteTree_Live"."ID" = ?) ORDER BY "SiteTree_Live"."Sort" ASC LIMIT 1 0.0004s
0050: SELECT DISTINCT "SiteTree_Live"."ClassName", "SiteTree_Live"."LastEdited", "SiteTree_Live"."Created", "SiteTree_Live"."Priority", "SiteTree_Live"."ShowListingImageOnPage", "SiteTree_Live"."ListingSummary", "SiteTree_Live"."SearchAudiencesSource", "SiteTree_Live"."SearchCategoriesSource", "SiteTree_Live"."SearchTagsSource", "SiteTree_Live"."CanViewType", "SiteTree_Live"."CanEditType", "SiteTree_Live"."Version", "SiteTree_Live"."URLSegment", "SiteTree_Live"."Title", "SiteTree_Live"."MenuTitle", "SiteTree_Live"."Content", "SiteTree_Live"."MetaDescription", "SiteTree_Live"."ExtraMeta", "SiteTree_Live"."ShowInMenus", "SiteTree_Live"."ShowInSearch", "SiteTree_Live"."Sort", "SiteTree_Live"."HasBrokenFile", "SiteTree_Live"."HasBrokenLink", "SiteTree_Live"."ReportClass", "SiteTree_Live"."ListingImageID", "SiteTree_Live"."ParentID", "SiteTree_Live"."ID", CASE WHEN "SiteTree_Live"."ClassName" IS NOT NULL THEN "SiteTree_Live"."ClassName" ELSE 'SilverStripe\\CMS\\Model\\SiteTree' END AS "RecordClassName" FROM "SiteTree_Live" WHERE ("SiteTree_Live"."ID" = ?) ORDER BY "SiteTree_Live"."Sort" ASC LIMIT 1 0.0005s
0051: SELECT DISTINCT "SiteTree_Live"."ClassName", "SiteTree_Live"."LastEdited", "SiteTree_Live"."Created", "SiteTree_Live"."Priority", "SiteTree_Live"."ShowListingImageOnPage", "SiteTree_Live"."ListingSummary", "SiteTree_Live"."SearchAudiencesSource", "SiteTree_Live"."SearchCategoriesSource", "SiteTree_Live"."SearchTagsSource", "SiteTree_Live"."CanViewType", "SiteTree_Live"."CanEditType", "SiteTree_Live"."Version", "SiteTree_Live"."URLSegment", "SiteTree_Live"."Title", "SiteTree_Live"."MenuTitle", "SiteTree_Live"."Content", "SiteTree_Live"."MetaDescription", "SiteTree_Live"."ExtraMeta", "SiteTree_Live"."ShowInMenus", "SiteTree_Live"."ShowInSearch", "SiteTree_Live"."Sort", "SiteTree_Live"."HasBrokenFile", "SiteTree_Live"."HasBrokenLink", "SiteTree_Live"."ReportClass", "SiteTree_Live"."ListingImageID", "SiteTree_Live"."ParentID", "SiteTree_Live"."ID", CASE WHEN "SiteTree_Live"."ClassName" IS NOT NULL THEN "SiteTree_Live"."ClassName" ELSE 'SilverStripe\\CMS\\Model\\SiteTree' END AS "RecordClassName" FROM "SiteTree_Live" WHERE ("SiteTree_Live"."ID" = ?) ORDER BY "SiteTree_Live"."Sort" ASC LIMIT 1 0.0004s
0052: SELECT DISTINCT "LinkableLink"."ClassName", "LinkableLink"."LastEdited", "LinkableLink"."Created", "LinkableLink"."Anchor", "LinkableLink"."Title", "LinkableLink"."Type", "LinkableLink"."URL", "LinkableLink"."Email", "LinkableLink"."Phone", "LinkableLink"."OpenInNewWindow", "LinkableLink"."Template", "LinkableLink"."SiteTreeID", "LinkableLink"."FileID", "LinkableLink"."ID", CASE WHEN "LinkableLink"."ClassName" IS NOT NULL THEN "LinkableLink"."ClassName" ELSE 'Sheadawson\\Linkable\\Models\\Link' END AS "RecordClassName" FROM "LinkableLink" WHERE ("LinkableLink"."ID" = ?) LIMIT 1 0.0005s
0053: SELECT DISTINCT "SiteTree_Live"."ClassName", "SiteTree_Live"."LastEdited", "SiteTree_Live"."Created", "SiteTree_Live"."Priority", "SiteTree_Live"."ShowListingImageOnPage", "SiteTree_Live"."ListingSummary", "SiteTree_Live"."SearchAudiencesSource", "SiteTree_Live"."SearchCategoriesSource", "SiteTree_Live"."SearchTagsSource", "SiteTree_Live"."CanViewType", "SiteTree_Live"."CanEditType", "SiteTree_Live"."Version", "SiteTree_Live"."URLSegment", "SiteTree_Live"."Title", "SiteTree_Live"."MenuTitle", "SiteTree_Live"."Content", "SiteTree_Live"."MetaDescription", "SiteTree_Live"."ExtraMeta", "SiteTree_Live"."ShowInMenus", "SiteTree_Live"."ShowInSearch", "SiteTree_Live"."Sort", "SiteTree_Live"."HasBrokenFile", "SiteTree_Live"."HasBrokenLink", "SiteTree_Live"."ReportClass", "SiteTree_Live"."ListingImageID", "SiteTree_Live"."ParentID", "SiteTree_Live"."ID", CASE WHEN "SiteTree_Live"."ClassName" IS NOT NULL THEN "SiteTree_Live"."ClassName" ELSE 'SilverStripe\\CMS\\Model\\SiteTree' END AS "RecordClassName" FROM "SiteTree_Live" WHERE ("SiteTree_Live"."ID" = ?) ORDER BY "SiteTree_Live"."Sort" ASC LIMIT 1 0.0005s
0054: SELECT DISTINCT "File_Live"."ClassName", "File_Live"."LastEdited", "File_Live"."Created", "File_Live"."Version", "File_Live"."UserFormUpload", "File_Live"."Desc", "File_Live"."FileContentCache", "File_Live"."CanViewType", "File_Live"."CanEditType", "File_Live"."Name", "File_Live"."Title", "File_Live"."ShowInSearch", "File_Live"."ParentID", "File_Live"."OwnerID", "File_Live"."FileHash", "File_Live"."FileFilename", "File_Live"."FileVariant", "Image_Live"."FocusPointX", "Image_Live"."FocusPointY", "File_Live"."ID", CASE WHEN "File_Live"."ClassName" IS NOT NULL THEN "File_Live"."ClassName" ELSE 'SilverStripe\\Assets\\File' END AS "RecordClassName" FROM "File_Live" LEFT JOIN "Image_Live" ON "Image_Live"."ID" = "File_Live"."ID" WHERE ("File_Live"."ID" = ?) AND ("File_Live"."ClassName" IN (?)) ORDER BY "File_Live"."Name" ASC LIMIT 1 0.0007s
0055: SELECT DISTINCT "SiteTree_Live"."ClassName", "SiteTree_Live"."LastEdited", "SiteTree_Live"."Created", "Page_Live"."ShowLatestNews", "Page_Live"."LatestNewsCount", "Page_Live"."ListingImageCaption", "Page_Live"."HeaderBannerSource", "Page_Live"."QuickLinksSource", "Page_Live"."PageBannersSource", "Page_Live"."LogoCarouselSource", "Page_Live"."HideSidebar", "Page_Live"."HideInNav", "Page_Live"."NavContent", "Page_Live"."HeaderBannerID", "Page_Live"."PageCTAID", "Page_Live"."NavLinkID", "Page_Live"."NavImageID", CASE WHEN "SiteTree_Live"."ClassName" IN ('SilverStripe\\CMS\\Model\\SiteTree', 'Page', 'HomePage', 'MarketingPage', 'PortalPage', 'ProfilePage', 'ProfilesPage', 'SubHomePage', 'Internetrix\\IRXNews\\Model\\News', 'Internetrix\\IRXResources\\Pages\\AdvancedResourcePage', 'PurpleSpider\\BasicCalendar\\CalendarPage', 'SilverStripe\\ErrorPage\\ErrorPage', 'Internetrix\\ListingSummary\\Model\\ListingPage', 'SilverStripe\\CMS\\Model\\RedirectorPage', 'SilverStripe\\CMS\\Model\\VirtualPage', 'SilverStripe\\UserForms\\Model\\UserDefinedForm', 'CalendarPageIRX', 'Internetrix\\IRXNews\\Model\\NewsHolder', 'ContactPage', 'ExpensesFormPage', 'Internetrix\\IRXJobs\\Pages\\JobsPage') THEN "SiteTree_Live"."Version" WHEN "SiteTree_Live"."ClassName" IN ('Page', 'HomePage', 'MarketingPage', 'PortalPage', 'ProfilePage', 'ProfilesPage', 'SubHomePage', 'Internetrix\\IRXNews\\Model\\News', 'Internetrix\\IRXResources\\Pages\\AdvancedResourcePage', 'PurpleSpider\\BasicCalendar\\CalendarPage', 'SilverStripe\\ErrorPage\\ErrorPage', 'Internetrix\\ListingSummary\\Model\\ListingPage', 'SilverStripe\\CMS\\Model\\RedirectorPage', 'SilverStripe\\CMS\\Model\\VirtualPage', 'SilverStripe\\UserForms\\Model\\UserDefinedForm', 'CalendarPageIRX', 'Internetrix\\IRXNews\\Model\\NewsHolder', 'ContactPage', 'ExpensesFormPage', 'Internetrix\\IRXJobs\\Pages\\JobsPage') THEN "Page_Live"."Version" ELSE NULL END AS "Version", "SiteTree_Live"."ID", CASE WHEN "SiteTree_Live"."ClassName" IS NOT NULL THEN "SiteTree_Live"."ClassName" ELSE 'SilverStripe\\CMS\\Model\\SiteTree' END AS "RecordClassName", "SiteTree_Live"."Sort" FROM "SiteTree_Live" LEFT JOIN "Page_Live" ON "Page_Live"."ID" = "SiteTree_Live"."ID" WHERE ("SiteTree_Live"."ID" = ?) AND ("SiteTree_Live"."ClassName" IN (?, ?, ?, ?, ?, ?, ?, ?, ?, ?, ?, ?, ?, ?, ?, ?, ?, ?, ?, ?)) ORDER BY "SiteTree_Live"."Sort" ASC LIMIT 1 0.0008s
0056: SELECT DISTINCT "SiteTree_Live"."ClassName", "SiteTree_Live"."LastEdited", "SiteTree_Live"."Created", "MarketingPage_Live"."Colour", "MarketingPage_Live"."ElementalAreaID", CASE WHEN "SiteTree_Live"."ClassName" IN ('SilverStripe\\CMS\\Model\\SiteTree', 'Page', 'HomePage', 'MarketingPage', 'PortalPage', 'ProfilePage', 'ProfilesPage', 'SubHomePage', 'Internetrix\\IRXNews\\Model\\News', 'Internetrix\\IRXResources\\Pages\\AdvancedResourcePage', 'PurpleSpider\\BasicCalendar\\CalendarPage', 'SilverStripe\\ErrorPage\\ErrorPage', 'Internetrix\\ListingSummary\\Model\\ListingPage', 'SilverStripe\\CMS\\Model\\RedirectorPage', 'SilverStripe\\CMS\\Model\\VirtualPage', 'SilverStripe\\UserForms\\Model\\UserDefinedForm', 'CalendarPageIRX', 'Internetrix\\IRXNews\\Model\\NewsHolder', 'ContactPage', 'ExpensesFormPage', 'Internetrix\\IRXJobs\\Pages\\JobsPage') THEN "SiteTree_Live"."Version" WHEN "SiteTree_Live"."ClassName" IN ('Page', 'HomePage', 'MarketingPage', 'PortalPage', 'ProfilePage', 'ProfilesPage', 'SubHomePage', 'Internetrix\\IRXNews\\Model\\News', 'Internetrix\\IRXResources\\Pages\\AdvancedResourcePage', 'PurpleSpider\\BasicCalendar\\CalendarPage', 'SilverStripe\\ErrorPage\\ErrorPage', 'Internetrix\\ListingSummary\\Model\\ListingPage', 'SilverStripe\\CMS\\Model\\RedirectorPage', 'SilverStripe\\CMS\\Model\\VirtualPage', 'SilverStripe\\UserForms\\Model\\UserDefinedForm', 'CalendarPageIRX', 'Internetrix\\IRXNews\\Model\\NewsHolder', 'ContactPage', 'ExpensesFormPage', 'Internetrix\\IRXJobs\\Pages\\JobsPage') THEN "Page_Live"."Version" ELSE NULL END AS "Version", "SiteTree_Live"."ID", CASE WHEN "SiteTree_Live"."ClassName" IS NOT NULL THEN "SiteTree_Live"."ClassName" ELSE 'SilverStripe\\CMS\\Model\\SiteTree' END AS "RecordClassName", "SiteTree_Live"."Sort" FROM "SiteTree_Live" LEFT JOIN "Page_Live" ON "Page_Live"."ID" = "SiteTree_Live"."ID" LEFT JOIN "MarketingPage_Live" ON "MarketingPage_Live"."ID" = "SiteTree_Live"."ID" WHERE ("SiteTree_Live"."ID" = ?) AND ("SiteTree_Live"."ClassName" IN (?)) ORDER BY "SiteTree_Live"."Sort" ASC LIMIT 1 0.001s
0057: SELECT DISTINCT "ElementalArea_Live"."ClassName", "ElementalArea_Live"."LastEdited", "ElementalArea_Live"."Created", "ElementalArea_Live"."Version", "ElementalArea_Live"."OwnerClassName", "ElementalArea_Live"."ID", CASE WHEN "ElementalArea_Live"."ClassName" IS NOT NULL THEN "ElementalArea_Live"."ClassName" ELSE 'DNADesign\\Elemental\\Models\\ElementalArea' END AS "RecordClassName" FROM "ElementalArea_Live" WHERE ("ElementalArea_Live"."ID" = ?) LIMIT 1 0.0008s
0058: SELECT DISTINCT "Element_Live"."ClassName", "Element_Live"."LastEdited", "Element_Live"."Created", "Element_Live"."AvailableGlobally", "Element_Live"."Active", "Element_Live"."BlockSpacing", "Element_Live"."Version", "Element_Live"."Title", "Element_Live"."ShowTitle", "Element_Live"."Sort", "Element_Live"."ExtraClass", "Element_Live"."Style", "Element_Live"."ParentID", "Element_Live"."ID", CASE WHEN "Element_Live"."ClassName" IS NOT NULL THEN "Element_Live"."ClassName" ELSE 'DNADesign\\Elemental\\Models\\BaseElement' END AS "RecordClassName" FROM "Element_Live" WHERE ("Element_Live"."ParentID" = ?) ORDER BY "Element_Live"."Sort" ASC 0.0013s
0059: SELECT DISTINCT "ElementalArea_Live"."ClassName", "ElementalArea_Live"."LastEdited", "ElementalArea_Live"."Created", "ElementalArea_Live"."Version", "ElementalArea_Live"."OwnerClassName", "ElementalArea_Live"."ID", CASE WHEN "ElementalArea_Live"."ClassName" IS NOT NULL THEN "ElementalArea_Live"."ClassName" ELSE 'DNADesign\\Elemental\\Models\\ElementalArea' END AS "RecordClassName" FROM "ElementalArea_Live" WHERE ("ElementalArea_Live"."ID" = ?) LIMIT 1 0.0004s
0060: SELECT DISTINCT "SiteTree_Live"."ClassName", "SiteTree_Live"."LastEdited", "SiteTree_Live"."Created", "SiteTree_Live"."Priority", "SiteTree_Live"."ShowListingImageOnPage", "SiteTree_Live"."ListingSummary", "SiteTree_Live"."SearchAudiencesSource", "SiteTree_Live"."SearchCategoriesSource", "SiteTree_Live"."SearchTagsSource", "SiteTree_Live"."CanViewType", "SiteTree_Live"."CanEditType", CASE WHEN "SiteTree_Live"."ClassName" IN ('SilverStripe\\CMS\\Model\\SiteTree', 'Page', 'HomePage', 'MarketingPage', 'PortalPage', 'ProfilePage', 'ProfilesPage', 'SubHomePage', 'Internetrix\\IRXNews\\Model\\News', 'Internetrix\\IRXResources\\Pages\\AdvancedResourcePage', 'PurpleSpider\\BasicCalendar\\CalendarPage', 'SilverStripe\\ErrorPage\\ErrorPage', 'Internetrix\\ListingSummary\\Model\\ListingPage', 'SilverStripe\\CMS\\Model\\RedirectorPage', 'SilverStripe\\CMS\\Model\\VirtualPage', 'SilverStripe\\UserForms\\Model\\UserDefinedForm', 'CalendarPageIRX', 'Internetrix\\IRXNews\\Model\\NewsHolder', 'ContactPage', 'ExpensesFormPage', 'Internetrix\\IRXJobs\\Pages\\JobsPage') THEN "SiteTree_Live"."Version" WHEN "SiteTree_Live"."ClassName" IN ('Page', 'HomePage', 'MarketingPage', 'PortalPage', 'ProfilePage', 'ProfilesPage', 'SubHomePage', 'Internetrix\\IRXNews\\Model\\News', 'Internetrix\\IRXResources\\Pages\\AdvancedResourcePage', 'PurpleSpider\\BasicCalendar\\CalendarPage', 'SilverStripe\\ErrorPage\\ErrorPage', 'Internetrix\\ListingSummary\\Model\\ListingPage', 'SilverStripe\\CMS\\Model\\RedirectorPage', 'SilverStripe\\CMS\\Model\\VirtualPage', 'SilverStripe\\UserForms\\Model\\UserDefinedForm', 'CalendarPageIRX', 'Internetrix\\IRXNews\\Model\\NewsHolder', 'ContactPage', 'ExpensesFormPage', 'Internetrix\\IRXJobs\\Pages\\JobsPage') THEN "Page_Live"."Version" ELSE NULL END AS "Version", "SiteTree_Live"."URLSegment", "SiteTree_Live"."Title", "SiteTree_Live"."MenuTitle", "SiteTree_Live"."Content", "SiteTree_Live"."MetaDescription", "SiteTree_Live"."ExtraMeta", "SiteTree_Live"."ShowInMenus", "SiteTree_Live"."ShowInSearch", "SiteTree_Live"."Sort", "SiteTree_Live"."HasBrokenFile", "SiteTree_Live"."HasBrokenLink", "SiteTree_Live"."ReportClass", "SiteTree_Live"."ListingImageID", "SiteTree_Live"."ParentID", "Page_Live"."ShowLatestNews", "Page_Live"."LatestNewsCount", "Page_Live"."ListingImageCaption", "Page_Live"."HeaderBannerSource", "Page_Live"."QuickLinksSource", "Page_Live"."PageBannersSource", "Page_Live"."LogoCarouselSource", "Page_Live"."HideSidebar", "Page_Live"."HideInNav", "Page_Live"."NavContent", "Page_Live"."HeaderBannerID", "Page_Live"."PageCTAID", "Page_Live"."NavLinkID", "Page_Live"."NavImageID", "MarketingPage_Live"."Colour", "MarketingPage_Live"."ElementalAreaID", "SiteTree_Live"."ID", CASE WHEN "SiteTree_Live"."ClassName" IS NOT NULL THEN "SiteTree_Live"."ClassName" ELSE 'SilverStripe\\CMS\\Model\\SiteTree' END AS "RecordClassName" FROM "SiteTree_Live" LEFT JOIN "Page_Live" ON "Page_Live"."ID" = "SiteTree_Live"."ID" LEFT JOIN "MarketingPage_Live" ON "MarketingPage_Live"."ID" = "SiteTree_Live"."ID" WHERE ("MarketingPage_Live"."ElementalAreaID" = ?) AND ("SiteTree_Live"."ClassName" = ?) AND ("SiteTree_Live"."ClassName" IN (?)) ORDER BY "SiteTree_Live"."Sort" ASC LIMIT 1 0.0018s
0061: SELECT DISTINCT "SiteTree_Live"."ClassName", "SiteTree_Live"."LastEdited", "SiteTree_Live"."Created", "SiteTree_Live"."Priority", "SiteTree_Live"."ShowListingImageOnPage", "SiteTree_Live"."ListingSummary", "SiteTree_Live"."SearchAudiencesSource", "SiteTree_Live"."SearchCategoriesSource", "SiteTree_Live"."SearchTagsSource", "SiteTree_Live"."CanViewType", "SiteTree_Live"."CanEditType", "SiteTree_Live"."Version", "SiteTree_Live"."URLSegment", "SiteTree_Live"."Title", "SiteTree_Live"."MenuTitle", "SiteTree_Live"."Content", "SiteTree_Live"."MetaDescription", "SiteTree_Live"."ExtraMeta", "SiteTree_Live"."ShowInMenus", "SiteTree_Live"."ShowInSearch", "SiteTree_Live"."Sort", "SiteTree_Live"."HasBrokenFile", "SiteTree_Live"."HasBrokenLink", "SiteTree_Live"."ReportClass", "SiteTree_Live"."ListingImageID", "SiteTree_Live"."ParentID", "SiteTree_Live"."ID", CASE WHEN "SiteTree_Live"."ClassName" IS NOT NULL THEN "SiteTree_Live"."ClassName" ELSE 'SilverStripe\\CMS\\Model\\SiteTree' END AS "RecordClassName" FROM "SiteTree_Live" WHERE ("SiteTree_Live"."ID" = ?) ORDER BY "SiteTree_Live"."Sort" ASC LIMIT 1 0.0005s
0062: SELECT DISTINCT "ElementalArea_Live"."ClassName", "ElementalArea_Live"."LastEdited", "ElementalArea_Live"."Created", "ElementalArea_Live"."Version", "ElementalArea_Live"."OwnerClassName", "ElementalArea_Live"."ID", CASE WHEN "ElementalArea_Live"."ClassName" IS NOT NULL THEN "ElementalArea_Live"."ClassName" ELSE 'DNADesign\\Elemental\\Models\\ElementalArea' END AS "RecordClassName" FROM "ElementalArea_Live" WHERE ("ElementalArea_Live"."ID" = ?) LIMIT 1 0.0004s
0063: SELECT DISTINCT "ElementalArea_Live"."ClassName", "ElementalArea_Live"."LastEdited", "ElementalArea_Live"."Created", "ElementalArea_Live"."Version", "ElementalArea_Live"."OwnerClassName", "ElementalArea_Live"."ID", CASE WHEN "ElementalArea_Live"."ClassName" IS NOT NULL THEN "ElementalArea_Live"."ClassName" ELSE 'DNADesign\\Elemental\\Models\\ElementalArea' END AS "RecordClassName" FROM "ElementalArea_Live" WHERE ("ElementalArea_Live"."ID" = ?) LIMIT 1 0.0003s
0064: SELECT DISTINCT "VerticalCardElement_ContentArticles"."Sort", "ContentArticle"."ClassName", "ContentArticle"."LastEdited", "ContentArticle"."Created", "ContentArticle"."ArticleTitle", "ContentArticle"."ArticleContent", "ContentArticle"."DisplayLink", "ContentArticle"."ArticleImageID", "ContentArticle"."ArticleLinkID", "ContentArticle"."ID", CASE WHEN "ContentArticle"."ClassName" IS NOT NULL THEN "ContentArticle"."ClassName" ELSE 'ContentArticle' END AS "RecordClassName" FROM "ContentArticle" INNER JOIN "VerticalCardElement_ContentArticles" ON "VerticalCardElement_ContentArticles"."ContentArticleID" = "ContentArticle"."ID" WHERE ("VerticalCardElement_ContentArticles"."VerticalCardElementID" = ?) ORDER BY "Sort" ASC 0.0021s
0065: SELECT DISTINCT "File_Live"."ClassName", "File_Live"."LastEdited", "File_Live"."Created", "File_Live"."Version", "File_Live"."UserFormUpload", "File_Live"."Desc", "File_Live"."FileContentCache", "File_Live"."CanViewType", "File_Live"."CanEditType", "File_Live"."Name", "File_Live"."Title", "File_Live"."ShowInSearch", "File_Live"."ParentID", "File_Live"."OwnerID", "File_Live"."FileHash", "File_Live"."FileFilename", "File_Live"."FileVariant", "Image_Live"."FocusPointX", "Image_Live"."FocusPointY", "File_Live"."ID", CASE WHEN "File_Live"."ClassName" IS NOT NULL THEN "File_Live"."ClassName" ELSE 'SilverStripe\\Assets\\File' END AS "RecordClassName" FROM "File_Live" LEFT JOIN "Image_Live" ON "Image_Live"."ID" = "File_Live"."ID" WHERE ("File_Live"."ID" = ?) AND ("File_Live"."ClassName" IN (?)) ORDER BY "File_Live"."Name" ASC LIMIT 1 0.0008s
0066: SELECT DISTINCT "SiteTree_Live"."ClassName", "SiteTree_Live"."LastEdited", "SiteTree_Live"."Created", "SiteTree_Live"."Priority", "SiteTree_Live"."ShowListingImageOnPage", "SiteTree_Live"."ListingSummary", "SiteTree_Live"."SearchAudiencesSource", "SiteTree_Live"."SearchCategoriesSource", "SiteTree_Live"."SearchTagsSource", "SiteTree_Live"."CanViewType", "SiteTree_Live"."CanEditType", "SiteTree_Live"."Version", "SiteTree_Live"."URLSegment", "SiteTree_Live"."Title", "SiteTree_Live"."MenuTitle", "SiteTree_Live"."Content", "SiteTree_Live"."MetaDescription", "SiteTree_Live"."ExtraMeta", "SiteTree_Live"."ShowInMenus", "SiteTree_Live"."ShowInSearch", "SiteTree_Live"."Sort", "SiteTree_Live"."HasBrokenFile", "SiteTree_Live"."HasBrokenLink", "SiteTree_Live"."ReportClass", "SiteTree_Live"."ListingImageID", "SiteTree_Live"."ParentID", "SiteTree_Live"."ID", CASE WHEN "SiteTree_Live"."ClassName" IS NOT NULL THEN "SiteTree_Live"."ClassName" ELSE 'SilverStripe\\CMS\\Model\\SiteTree' END AS "RecordClassName" FROM "SiteTree_Live" WHERE ("SiteTree_Live"."ID" = ?) ORDER BY "SiteTree_Live"."Sort" ASC LIMIT 1 0.0005s
0067: SELECT DISTINCT "SiteTree_Live"."ClassName", "SiteTree_Live"."LastEdited", "SiteTree_Live"."Created", "SiteTree_Live"."Priority", "SiteTree_Live"."ShowListingImageOnPage", "SiteTree_Live"."ListingSummary", "SiteTree_Live"."SearchAudiencesSource", "SiteTree_Live"."SearchCategoriesSource", "SiteTree_Live"."SearchTagsSource", "SiteTree_Live"."CanViewType", "SiteTree_Live"."CanEditType", "SiteTree_Live"."Version", "SiteTree_Live"."URLSegment", "SiteTree_Live"."Title", "SiteTree_Live"."MenuTitle", "SiteTree_Live"."Content", "SiteTree_Live"."MetaDescription", "SiteTree_Live"."ExtraMeta", "SiteTree_Live"."ShowInMenus", "SiteTree_Live"."ShowInSearch", "SiteTree_Live"."Sort", "SiteTree_Live"."HasBrokenFile", "SiteTree_Live"."HasBrokenLink", "SiteTree_Live"."ReportClass", "SiteTree_Live"."ListingImageID", "SiteTree_Live"."ParentID", "SiteTree_Live"."ID", CASE WHEN "SiteTree_Live"."ClassName" IS NOT NULL THEN "SiteTree_Live"."ClassName" ELSE 'SilverStripe\\CMS\\Model\\SiteTree' END AS "RecordClassName" FROM "SiteTree_Live" WHERE ("SiteTree_Live"."ID" = ?) ORDER BY "SiteTree_Live"."Sort" ASC LIMIT 1 0.0005s
0068: SELECT DISTINCT "File_Live"."ClassName", "File_Live"."LastEdited", "File_Live"."Created", "File_Live"."Version", "File_Live"."UserFormUpload", "File_Live"."Desc", "File_Live"."FileContentCache", "File_Live"."CanViewType", "File_Live"."CanEditType", "File_Live"."Name", "File_Live"."Title", "File_Live"."ShowInSearch", "File_Live"."ParentID", "File_Live"."OwnerID", "File_Live"."FileHash", "File_Live"."FileFilename", "File_Live"."FileVariant", "Image_Live"."FocusPointX", "Image_Live"."FocusPointY", "File_Live"."ID", CASE WHEN "File_Live"."ClassName" IS NOT NULL THEN "File_Live"."ClassName" ELSE 'SilverStripe\\Assets\\File' END AS "RecordClassName" FROM "File_Live" LEFT JOIN "Image_Live" ON "Image_Live"."ID" = "File_Live"."ID" WHERE ("File_Live"."ID" = ?) AND ("File_Live"."ClassName" IN (?)) ORDER BY "File_Live"."Name" ASC LIMIT 1 0.0008s
0069: SELECT DISTINCT "File_Live"."ClassName", "File_Live"."LastEdited", "File_Live"."Created", "File_Live"."Version", "File_Live"."UserFormUpload", "File_Live"."Desc", "File_Live"."FileContentCache", "File_Live"."CanViewType", "File_Live"."CanEditType", "File_Live"."Name", "File_Live"."Title", "File_Live"."ShowInSearch", "File_Live"."ParentID", "File_Live"."OwnerID", "File_Live"."FileHash", "File_Live"."FileFilename", "File_Live"."FileVariant", "Image_Live"."FocusPointX", "Image_Live"."FocusPointY", "File_Live"."ID", CASE WHEN "File_Live"."ClassName" IS NOT NULL THEN "File_Live"."ClassName" ELSE 'SilverStripe\\Assets\\File' END AS "RecordClassName" FROM "File_Live" LEFT JOIN "Image_Live" ON "Image_Live"."ID" = "File_Live"."ID" WHERE ("File_Live"."ID" = ?) AND ("File_Live"."ClassName" IN (?)) ORDER BY "File_Live"."Name" ASC LIMIT 1 0.0007s
0070: SELECT DISTINCT "ElementalArea_Live"."ClassName", "ElementalArea_Live"."LastEdited", "ElementalArea_Live"."Created", "ElementalArea_Live"."Version", "ElementalArea_Live"."OwnerClassName", "ElementalArea_Live"."ID", CASE WHEN "ElementalArea_Live"."ClassName" IS NOT NULL THEN "ElementalArea_Live"."ClassName" ELSE 'DNADesign\\Elemental\\Models\\ElementalArea' END AS "RecordClassName" FROM "ElementalArea_Live" WHERE ("ElementalArea_Live"."ID" = ?) LIMIT 1 0.0004s
0071: SELECT DISTINCT "Element_Live"."ClassName", "Element_Live"."LastEdited", "Element_Live"."Created", "ElementContent_Live"."HTML", "Element_Live"."ID", CASE WHEN "Element_Live"."ClassName" IS NOT NULL THEN "Element_Live"."ClassName" ELSE 'DNADesign\\Elemental\\Models\\BaseElement' END AS "RecordClassName", "Element_Live"."Sort" FROM "Element_Live" LEFT JOIN "ElementContent_Live" ON "ElementContent_Live"."ID" = "Element_Live"."ID" WHERE ("Element_Live"."ID" = ?) AND ("Element_Live"."ClassName" IN (?)) ORDER BY "Element_Live"."Sort" ASC LIMIT 1 0.0008s
0072: SELECT EXISTS(SELECT * FROM "Logo_Live" INNER JOIN "SiteConfig_LogoCarousel" ON "SiteConfig_LogoCarousel"."LogoID" = "Logo_Live"."ID" WHERE ("SiteConfig_LogoCarousel"."SiteConfigID" = ?)) 0.0006s
0073: SELECT EXISTS(SELECT * FROM "Partner_Live" INNER JOIN "SiteConfig_Partners" ON "SiteConfig_Partners"."PartnerID" = "Partner_Live"."ID" WHERE ("SiteConfig_Partners"."SiteConfigID" = ?)) 0.0005s
0074: SELECT DISTINCT "SiteTree_Live"."ClassName", "SiteTree_Live"."LastEdited", "SiteTree_Live"."Created", "SiteTree_Live"."Priority", "SiteTree_Live"."ShowListingImageOnPage", "SiteTree_Live"."ListingSummary", "SiteTree_Live"."SearchAudiencesSource", "SiteTree_Live"."SearchCategoriesSource", "SiteTree_Live"."SearchTagsSource", "SiteTree_Live"."CanViewType", "SiteTree_Live"."CanEditType", "SiteTree_Live"."Version", "SiteTree_Live"."URLSegment", "SiteTree_Live"."Title", "SiteTree_Live"."MenuTitle", "SiteTree_Live"."Content", "SiteTree_Live"."MetaDescription", "SiteTree_Live"."ExtraMeta", "SiteTree_Live"."ShowInMenus", "SiteTree_Live"."ShowInSearch", "SiteTree_Live"."Sort", "SiteTree_Live"."HasBrokenFile", "SiteTree_Live"."HasBrokenLink", "SiteTree_Live"."ReportClass", "SiteTree_Live"."ListingImageID", "SiteTree_Live"."ParentID", "SiteTree_Live"."ID", CASE WHEN "SiteTree_Live"."ClassName" IS NOT NULL THEN "SiteTree_Live"."ClassName" ELSE 'SilverStripe\\CMS\\Model\\SiteTree' END AS "RecordClassName" FROM "SiteTree_Live" WHERE ("SiteTree_Live"."ID" = ?) ORDER BY "SiteTree_Live"."Sort" ASC LIMIT 1 0.0005s
0075: SELECT DISTINCT "SiteTree_Live"."ClassName", "SiteTree_Live"."LastEdited", "SiteTree_Live"."Created", "SiteTree_Live"."Priority", "SiteTree_Live"."ShowListingImageOnPage", "SiteTree_Live"."ListingSummary", "SiteTree_Live"."SearchAudiencesSource", "SiteTree_Live"."SearchCategoriesSource", "SiteTree_Live"."SearchTagsSource", "SiteTree_Live"."CanViewType", "SiteTree_Live"."CanEditType", "SiteTree_Live"."Version", "SiteTree_Live"."URLSegment", "SiteTree_Live"."Title", "SiteTree_Live"."MenuTitle", "SiteTree_Live"."Content", "SiteTree_Live"."MetaDescription", "SiteTree_Live"."ExtraMeta", "SiteTree_Live"."ShowInMenus", "SiteTree_Live"."ShowInSearch", "SiteTree_Live"."Sort", "SiteTree_Live"."HasBrokenFile", "SiteTree_Live"."HasBrokenLink", "SiteTree_Live"."ReportClass", "SiteTree_Live"."ListingImageID", "SiteTree_Live"."ParentID", "SiteTree_Live"."ID", CASE WHEN "SiteTree_Live"."ClassName" IS NOT NULL THEN "SiteTree_Live"."ClassName" ELSE 'SilverStripe\\CMS\\Model\\SiteTree' END AS "RecordClassName" FROM "SiteTree_Live" WHERE ("SiteTree_Live"."ID" = ?) ORDER BY "SiteTree_Live"."Sort" ASC LIMIT 1 0.0004s
0076: SELECT DISTINCT "SiteTree_Versions"."ClassName", "SiteTree_Versions"."LastEdited", "SiteTree_Versions"."Created", "SiteTree_Versions"."Priority", "SiteTree_Versions"."ShowListingImageOnPage", "SiteTree_Versions"."ListingSummary", "SiteTree_Versions"."SearchAudiencesSource", "SiteTree_Versions"."SearchCategoriesSource", "SiteTree_Versions"."SearchTagsSource", "SiteTree_Versions"."CanViewType", "SiteTree_Versions"."CanEditType", "SiteTree_Versions"."Version", "SiteTree_Versions"."URLSegment", "SiteTree_Versions"."Title", "SiteTree_Versions"."MenuTitle", "SiteTree_Versions"."Content", "SiteTree_Versions"."MetaDescription", "SiteTree_Versions"."ExtraMeta", "SiteTree_Versions"."ShowInMenus", "SiteTree_Versions"."ShowInSearch", "SiteTree_Versions"."Sort", "SiteTree_Versions"."HasBrokenFile", "SiteTree_Versions"."HasBrokenLink", "SiteTree_Versions"."ReportClass", "SiteTree_Versions"."ListingImageID", "SiteTree_Versions"."ParentID", "SiteTree_Versions"."RecordID" AS "ID", CASE WHEN "SiteTree_Versions"."ClassName" IS NOT NULL THEN "SiteTree_Versions"."ClassName" ELSE 'SilverStripe\\CMS\\Model\\SiteTree' END AS "RecordClassName", "SiteTree_Versions"."RecordID", "SiteTree_Versions"."WasPublished", "SiteTree_Versions"."WasDeleted", "SiteTree_Versions"."WasDraft", "SiteTree_Versions"."AuthorID", "SiteTree_Versions"."PublisherID" FROM "SiteTree_Versions" WHERE ("SiteTree_Versions"."WasDeleted" = ?) AND ("SiteTree_Versions"."RecordID" = ?) ORDER BY "SiteTree_Versions"."Version" DESC LIMIT 1 0.0014s
0077: SELECT DISTINCT "SiteTree_Live"."ClassName", "SiteTree_Live"."LastEdited", "SiteTree_Live"."Created", "SiteTree_Live"."Priority", "SiteTree_Live"."ShowListingImageOnPage", "SiteTree_Live"."ListingSummary", "SiteTree_Live"."SearchAudiencesSource", "SiteTree_Live"."SearchCategoriesSource", "SiteTree_Live"."SearchTagsSource", "SiteTree_Live"."CanViewType", "SiteTree_Live"."CanEditType", "SiteTree_Live"."Version", "SiteTree_Live"."URLSegment", "SiteTree_Live"."Title", "SiteTree_Live"."MenuTitle", "SiteTree_Live"."Content", "SiteTree_Live"."MetaDescription", "SiteTree_Live"."ExtraMeta", "SiteTree_Live"."ShowInMenus", "SiteTree_Live"."ShowInSearch", "SiteTree_Live"."Sort", "SiteTree_Live"."HasBrokenFile", "SiteTree_Live"."HasBrokenLink", "SiteTree_Live"."ReportClass", "SiteTree_Live"."ListingImageID", "SiteTree_Live"."ParentID", "SiteTree_Live"."ID", CASE WHEN "SiteTree_Live"."ClassName" IS NOT NULL THEN "SiteTree_Live"."ClassName" ELSE 'SilverStripe\\CMS\\Model\\SiteTree' END AS "RecordClassName" FROM "SiteTree_Live" WHERE ("SiteTree_Live"."ID" = ?) ORDER BY "SiteTree_Live"."Sort" ASC LIMIT 1 0.0005s
0078: SELECT DISTINCT "SiteTree_Live"."ClassName", "SiteTree_Live"."LastEdited", "SiteTree_Live"."Created", "SiteTree_Live"."Priority", "SiteTree_Live"."ShowListingImageOnPage", "SiteTree_Live"."ListingSummary", "SiteTree_Live"."SearchAudiencesSource", "SiteTree_Live"."SearchCategoriesSource", "SiteTree_Live"."SearchTagsSource", "SiteTree_Live"."CanViewType", "SiteTree_Live"."CanEditType", "SiteTree_Live"."Version", "SiteTree_Live"."URLSegment", "SiteTree_Live"."Title", "SiteTree_Live"."MenuTitle", "SiteTree_Live"."Content", "SiteTree_Live"."MetaDescription", "SiteTree_Live"."ExtraMeta", "SiteTree_Live"."ShowInMenus", "SiteTree_Live"."ShowInSearch", "SiteTree_Live"."Sort", "SiteTree_Live"."HasBrokenFile", "SiteTree_Live"."HasBrokenLink", "SiteTree_Live"."ReportClass", "SiteTree_Live"."ListingImageID", "SiteTree_Live"."ParentID", "SiteTree_Live"."ID", CASE WHEN "SiteTree_Live"."ClassName" IS NOT NULL THEN "SiteTree_Live"."ClassName" ELSE 'SilverStripe\\CMS\\Model\\SiteTree' END AS "RecordClassName" FROM "SiteTree_Live" WHERE ("SiteTree_Live"."ID" = ?) ORDER BY "SiteTree_Live"."Sort" ASC LIMIT 1 0.0005s
0079: SELECT DISTINCT "SiteTree_Live"."ClassName", "SiteTree_Live"."LastEdited", "SiteTree_Live"."Created", "SiteTree_Live"."Priority", "SiteTree_Live"."ShowListingImageOnPage", "SiteTree_Live"."ListingSummary", "SiteTree_Live"."SearchAudiencesSource", "SiteTree_Live"."SearchCategoriesSource", "SiteTree_Live"."SearchTagsSource", "SiteTree_Live"."CanViewType", "SiteTree_Live"."CanEditType", "SiteTree_Live"."Version", "SiteTree_Live"."URLSegment", "SiteTree_Live"."Title", "SiteTree_Live"."MenuTitle", "SiteTree_Live"."Content", "SiteTree_Live"."MetaDescription", "SiteTree_Live"."ExtraMeta", "SiteTree_Live"."ShowInMenus", "SiteTree_Live"."ShowInSearch", "SiteTree_Live"."Sort", "SiteTree_Live"."HasBrokenFile", "SiteTree_Live"."HasBrokenLink", "SiteTree_Live"."ReportClass", "SiteTree_Live"."ListingImageID", "SiteTree_Live"."ParentID", "SiteTree_Live"."ID", CASE WHEN "SiteTree_Live"."ClassName" IS NOT NULL THEN "SiteTree_Live"."ClassName" ELSE 'SilverStripe\\CMS\\Model\\SiteTree' END AS "RecordClassName" FROM "SiteTree_Live" WHERE ("SiteTree_Live"."ID" = ?) ORDER BY "SiteTree_Live"."Sort" ASC LIMIT 1 0.0005s
0080: SELECT DISTINCT "SiteTree_Live"."ClassName", "SiteTree_Live"."LastEdited", "SiteTree_Live"."Created", "SiteTree_Live"."Priority", "SiteTree_Live"."ShowListingImageOnPage", "SiteTree_Live"."ListingSummary", "SiteTree_Live"."SearchAudiencesSource", "SiteTree_Live"."SearchCategoriesSource", "SiteTree_Live"."SearchTagsSource", "SiteTree_Live"."CanViewType", "SiteTree_Live"."CanEditType", "SiteTree_Live"."Version", "SiteTree_Live"."URLSegment", "SiteTree_Live"."Title", "SiteTree_Live"."MenuTitle", "SiteTree_Live"."Content", "SiteTree_Live"."MetaDescription", "SiteTree_Live"."ExtraMeta", "SiteTree_Live"."ShowInMenus", "SiteTree_Live"."ShowInSearch", "SiteTree_Live"."Sort", "SiteTree_Live"."HasBrokenFile", "SiteTree_Live"."HasBrokenLink", "SiteTree_Live"."ReportClass", "SiteTree_Live"."ListingImageID", "SiteTree_Live"."ParentID", "SiteTree_Live"."ID", CASE WHEN "SiteTree_Live"."ClassName" IS NOT NULL THEN "SiteTree_Live"."ClassName" ELSE 'SilverStripe\\CMS\\Model\\SiteTree' END AS "RecordClassName" FROM "SiteTree_Live" WHERE ("SiteTree_Live"."ID" = ?) ORDER BY "SiteTree_Live"."Sort" ASC LIMIT 1 0.0005s
0081: SELECT DISTINCT "SiteTree_Live"."ClassName", "SiteTree_Live"."LastEdited", "SiteTree_Live"."Created", "RedirectorPage_Live"."RedirectionType", "RedirectorPage_Live"."ExternalURL", "RedirectorPage_Live"."LinkToID", CASE WHEN "SiteTree_Live"."ClassName" IN ('SilverStripe\\CMS\\Model\\SiteTree', 'Page', 'HomePage', 'MarketingPage', 'PortalPage', 'ProfilePage', 'ProfilesPage', 'SubHomePage', 'Internetrix\\IRXNews\\Model\\News', 'Internetrix\\IRXResources\\Pages\\AdvancedResourcePage', 'PurpleSpider\\BasicCalendar\\CalendarPage', 'SilverStripe\\ErrorPage\\ErrorPage', 'Internetrix\\ListingSummary\\Model\\ListingPage', 'SilverStripe\\CMS\\Model\\RedirectorPage', 'SilverStripe\\CMS\\Model\\VirtualPage', 'SilverStripe\\UserForms\\Model\\UserDefinedForm', 'CalendarPageIRX', 'Internetrix\\IRXNews\\Model\\NewsHolder', 'ContactPage', 'ExpensesFormPage', 'Internetrix\\IRXJobs\\Pages\\JobsPage') THEN "SiteTree_Live"."Version" WHEN "SiteTree_Live"."ClassName" IN ('Page', 'HomePage', 'MarketingPage', 'PortalPage', 'ProfilePage', 'ProfilesPage', 'SubHomePage', 'Internetrix\\IRXNews\\Model\\News', 'Internetrix\\IRXResources\\Pages\\AdvancedResourcePage', 'PurpleSpider\\BasicCalendar\\CalendarPage', 'SilverStripe\\ErrorPage\\ErrorPage', 'Internetrix\\ListingSummary\\Model\\ListingPage', 'SilverStripe\\CMS\\Model\\RedirectorPage', 'SilverStripe\\CMS\\Model\\VirtualPage', 'SilverStripe\\UserForms\\Model\\UserDefinedForm', 'CalendarPageIRX', 'Internetrix\\IRXNews\\Model\\NewsHolder', 'ContactPage', 'ExpensesFormPage', 'Internetrix\\IRXJobs\\Pages\\JobsPage') THEN "Page_Live"."Version" ELSE NULL END AS "Version", "SiteTree_Live"."ID", CASE WHEN "SiteTree_Live"."ClassName" IS NOT NULL THEN "SiteTree_Live"."ClassName" ELSE 'SilverStripe\\CMS\\Model\\SiteTree' END AS "RecordClassName", "SiteTree_Live"."Sort" FROM "SiteTree_Live" LEFT JOIN "Page_Live" ON "Page_Live"."ID" = "SiteTree_Live"."ID" LEFT JOIN "RedirectorPage_Live" ON "RedirectorPage_Live"."ID" = "SiteTree_Live"."ID" WHERE ("SiteTree_Live"."ID" = ?) AND ("SiteTree_Live"."ClassName" IN (?)) ORDER BY "SiteTree_Live"."Sort" ASC LIMIT 1 0.0006s
0082: SELECT DISTINCT "SiteTree_Live"."ClassName", "SiteTree_Live"."LastEdited", "SiteTree_Live"."Created", "SiteTree_Live"."Priority", "SiteTree_Live"."ShowListingImageOnPage", "SiteTree_Live"."ListingSummary", "SiteTree_Live"."SearchAudiencesSource", "SiteTree_Live"."SearchCategoriesSource", "SiteTree_Live"."SearchTagsSource", "SiteTree_Live"."CanViewType", "SiteTree_Live"."CanEditType", "SiteTree_Live"."Version", "SiteTree_Live"."URLSegment", "SiteTree_Live"."Title", "SiteTree_Live"."MenuTitle", "SiteTree_Live"."Content", "SiteTree_Live"."MetaDescription", "SiteTree_Live"."ExtraMeta", "SiteTree_Live"."ShowInMenus", "SiteTree_Live"."ShowInSearch", "SiteTree_Live"."Sort", "SiteTree_Live"."HasBrokenFile", "SiteTree_Live"."HasBrokenLink", "SiteTree_Live"."ReportClass", "SiteTree_Live"."ListingImageID", "SiteTree_Live"."ParentID", "SiteTree_Live"."ID", CASE WHEN "SiteTree_Live"."ClassName" IS NOT NULL THEN "SiteTree_Live"."ClassName" ELSE 'SilverStripe\\CMS\\Model\\SiteTree' END AS "RecordClassName" FROM "SiteTree_Live" WHERE ("SiteTree_Live"."ID" = ?) ORDER BY "SiteTree_Live"."Sort" ASC LIMIT 1 0.0005s
0083: SELECT DISTINCT "SiteTree_Live"."ClassName", "SiteTree_Live"."LastEdited", "SiteTree_Live"."Created", "SiteTree_Live"."Priority", "SiteTree_Live"."ShowListingImageOnPage", "SiteTree_Live"."ListingSummary", "SiteTree_Live"."SearchAudiencesSource", "SiteTree_Live"."SearchCategoriesSource", "SiteTree_Live"."SearchTagsSource", "SiteTree_Live"."CanViewType", "SiteTree_Live"."CanEditType", "SiteTree_Live"."Version", "SiteTree_Live"."URLSegment", "SiteTree_Live"."Title", "SiteTree_Live"."MenuTitle", "SiteTree_Live"."Content", "SiteTree_Live"."MetaDescription", "SiteTree_Live"."ExtraMeta", "SiteTree_Live"."ShowInMenus", "SiteTree_Live"."ShowInSearch", "SiteTree_Live"."Sort", "SiteTree_Live"."HasBrokenFile", "SiteTree_Live"."HasBrokenLink", "SiteTree_Live"."ReportClass", "SiteTree_Live"."ListingImageID", "SiteTree_Live"."ParentID", "SiteTree_Live"."ID", CASE WHEN "SiteTree_Live"."ClassName" IS NOT NULL THEN "SiteTree_Live"."ClassName" ELSE 'SilverStripe\\CMS\\Model\\SiteTree' END AS "RecordClassName" FROM "SiteTree_Live" WHERE ("SiteTree_Live"."ID" = ?) ORDER BY "SiteTree_Live"."Sort" ASC LIMIT 1 0.0005s
0084: SELECT DISTINCT "SiteTree_Live"."ClassName", "SiteTree_Live"."LastEdited", "SiteTree_Live"."Created", "SiteTree_Live"."Priority", "SiteTree_Live"."ShowListingImageOnPage", "SiteTree_Live"."ListingSummary", "SiteTree_Live"."SearchAudiencesSource", "SiteTree_Live"."SearchCategoriesSource", "SiteTree_Live"."SearchTagsSource", "SiteTree_Live"."CanViewType", "SiteTree_Live"."CanEditType", "SiteTree_Live"."Version", "SiteTree_Live"."URLSegment", "SiteTree_Live"."Title", "SiteTree_Live"."MenuTitle", "SiteTree_Live"."Content", "SiteTree_Live"."MetaDescription", "SiteTree_Live"."ExtraMeta", "SiteTree_Live"."ShowInMenus", "SiteTree_Live"."ShowInSearch", "SiteTree_Live"."Sort", "SiteTree_Live"."HasBrokenFile", "SiteTree_Live"."HasBrokenLink", "SiteTree_Live"."ReportClass", "SiteTree_Live"."ListingImageID", "SiteTree_Live"."ParentID", "SiteTree_Live"."ID", CASE WHEN "SiteTree_Live"."ClassName" IS NOT NULL THEN "SiteTree_Live"."ClassName" ELSE 'SilverStripe\\CMS\\Model\\SiteTree' END AS "RecordClassName" FROM "SiteTree_Live" WHERE ("SiteTree_Live"."ID" = ?) ORDER BY "SiteTree_Live"."Sort" ASC LIMIT 1 0.0005s
0085: SELECT DISTINCT "SiteTree_Live"."ClassName", "SiteTree_Live"."LastEdited", "SiteTree_Live"."Created", "SiteTree_Live"."Priority", "SiteTree_Live"."ShowListingImageOnPage", "SiteTree_Live"."ListingSummary", "SiteTree_Live"."SearchAudiencesSource", "SiteTree_Live"."SearchCategoriesSource", "SiteTree_Live"."SearchTagsSource", "SiteTree_Live"."CanViewType", "SiteTree_Live"."CanEditType", "SiteTree_Live"."Version", "SiteTree_Live"."URLSegment", "SiteTree_Live"."Title", "SiteTree_Live"."MenuTitle", "SiteTree_Live"."Content", "SiteTree_Live"."MetaDescription", "SiteTree_Live"."ExtraMeta", "SiteTree_Live"."ShowInMenus", "SiteTree_Live"."ShowInSearch", "SiteTree_Live"."Sort", "SiteTree_Live"."HasBrokenFile", "SiteTree_Live"."HasBrokenLink", "SiteTree_Live"."ReportClass", "SiteTree_Live"."ListingImageID", "SiteTree_Live"."ParentID", "SiteTree_Live"."ID", CASE WHEN "SiteTree_Live"."ClassName" IS NOT NULL THEN "SiteTree_Live"."ClassName" ELSE 'SilverStripe\\CMS\\Model\\SiteTree' END AS "RecordClassName" FROM "SiteTree_Live" WHERE ("SiteTree_Live"."ID" = ?) ORDER BY "SiteTree_Live"."Sort" ASC LIMIT 1 0.0004s
0086: SELECT DISTINCT "SiteTree_Live"."ClassName", "SiteTree_Live"."LastEdited", "SiteTree_Live"."Created", "SiteTree_Live"."Priority", "SiteTree_Live"."ShowListingImageOnPage", "SiteTree_Live"."ListingSummary", "SiteTree_Live"."SearchAudiencesSource", "SiteTree_Live"."SearchCategoriesSource", "SiteTree_Live"."SearchTagsSource", "SiteTree_Live"."CanViewType", "SiteTree_Live"."CanEditType", "SiteTree_Live"."Version", "SiteTree_Live"."URLSegment", "SiteTree_Live"."Title", "SiteTree_Live"."MenuTitle", "SiteTree_Live"."Content", "SiteTree_Live"."MetaDescription", "SiteTree_Live"."ExtraMeta", "SiteTree_Live"."ShowInMenus", "SiteTree_Live"."ShowInSearch", "SiteTree_Live"."Sort", "SiteTree_Live"."HasBrokenFile", "SiteTree_Live"."HasBrokenLink", "SiteTree_Live"."ReportClass", "SiteTree_Live"."ListingImageID", "SiteTree_Live"."ParentID", "SiteTree_Live"."ID", CASE WHEN "SiteTree_Live"."ClassName" IS NOT NULL THEN "SiteTree_Live"."ClassName" ELSE 'SilverStripe\\CMS\\Model\\SiteTree' END AS "RecordClassName" FROM "SiteTree_Live" WHERE ("SiteTree_Live"."ID" = ?) ORDER BY "SiteTree_Live"."Sort" ASC LIMIT 1 0.0004s
0087: SELECT DISTINCT "SiteTree_Live"."ClassName", "SiteTree_Live"."LastEdited", "SiteTree_Live"."Created", "SiteTree_Live"."Priority", "SiteTree_Live"."ShowListingImageOnPage", "SiteTree_Live"."ListingSummary", "SiteTree_Live"."SearchAudiencesSource", "SiteTree_Live"."SearchCategoriesSource", "SiteTree_Live"."SearchTagsSource", "SiteTree_Live"."CanViewType", "SiteTree_Live"."CanEditType", "SiteTree_Live"."Version", "SiteTree_Live"."URLSegment", "SiteTree_Live"."Title", "SiteTree_Live"."MenuTitle", "SiteTree_Live"."Content", "SiteTree_Live"."MetaDescription", "SiteTree_Live"."ExtraMeta", "SiteTree_Live"."ShowInMenus", "SiteTree_Live"."ShowInSearch", "SiteTree_Live"."Sort", "SiteTree_Live"."HasBrokenFile", "SiteTree_Live"."HasBrokenLink", "SiteTree_Live"."ReportClass", "SiteTree_Live"."ListingImageID", "SiteTree_Live"."ParentID", "SiteTree_Live"."ID", CASE WHEN "SiteTree_Live"."ClassName" IS NOT NULL THEN "SiteTree_Live"."ClassName" ELSE 'SilverStripe\\CMS\\Model\\SiteTree' END AS "RecordClassName" FROM "SiteTree_Live" WHERE ("SiteTree_Live"."ID" = ?) ORDER BY "SiteTree_Live"."Sort" ASC LIMIT 1 0.0004s
0088: SELECT DISTINCT "SiteTree_Live"."ClassName", "SiteTree_Live"."LastEdited", "SiteTree_Live"."Created", "SiteTree_Live"."Priority", "SiteTree_Live"."ShowListingImageOnPage", "SiteTree_Live"."ListingSummary", "SiteTree_Live"."SearchAudiencesSource", "SiteTree_Live"."SearchCategoriesSource", "SiteTree_Live"."SearchTagsSource", "SiteTree_Live"."CanViewType", "SiteTree_Live"."CanEditType", "SiteTree_Live"."Version", "SiteTree_Live"."URLSegment", "SiteTree_Live"."Title", "SiteTree_Live"."MenuTitle", "SiteTree_Live"."Content", "SiteTree_Live"."MetaDescription", "SiteTree_Live"."ExtraMeta", "SiteTree_Live"."ShowInMenus", "SiteTree_Live"."ShowInSearch", "SiteTree_Live"."Sort", "SiteTree_Live"."HasBrokenFile", "SiteTree_Live"."HasBrokenLink", "SiteTree_Live"."ReportClass", "SiteTree_Live"."ListingImageID", "SiteTree_Live"."ParentID", "SiteTree_Live"."ID", CASE WHEN "SiteTree_Live"."ClassName" IS NOT NULL THEN "SiteTree_Live"."ClassName" ELSE 'SilverStripe\\CMS\\Model\\SiteTree' END AS "RecordClassName" FROM "SiteTree_Live" WHERE ("SiteTree_Live"."ID" = ?) ORDER BY "SiteTree_Live"."Sort" ASC LIMIT 1 0.0004s
0089: SELECT DISTINCT "SiteTree_Live"."ClassName", "SiteTree_Live"."LastEdited", "SiteTree_Live"."Created", "SiteTree_Live"."Priority", "SiteTree_Live"."ShowListingImageOnPage", "SiteTree_Live"."ListingSummary", "SiteTree_Live"."SearchAudiencesSource", "SiteTree_Live"."SearchCategoriesSource", "SiteTree_Live"."SearchTagsSource", "SiteTree_Live"."CanViewType", "SiteTree_Live"."CanEditType", "SiteTree_Live"."Version", "SiteTree_Live"."URLSegment", "SiteTree_Live"."Title", "SiteTree_Live"."MenuTitle", "SiteTree_Live"."Content", "SiteTree_Live"."MetaDescription", "SiteTree_Live"."ExtraMeta", "SiteTree_Live"."ShowInMenus", "SiteTree_Live"."ShowInSearch", "SiteTree_Live"."Sort", "SiteTree_Live"."HasBrokenFile", "SiteTree_Live"."HasBrokenLink", "SiteTree_Live"."ReportClass", "SiteTree_Live"."ListingImageID", "SiteTree_Live"."ParentID", "SiteTree_Live"."ID", CASE WHEN "SiteTree_Live"."ClassName" IS NOT NULL THEN "SiteTree_Live"."ClassName" ELSE 'SilverStripe\\CMS\\Model\\SiteTree' END AS "RecordClassName" FROM "SiteTree_Live" WHERE ("SiteTree_Live"."ID" = ?) ORDER BY "SiteTree_Live"."Sort" ASC LIMIT 1 0.0004s
0090: SELECT "Version" FROM "SiteTree" WHERE "ID" = ? 0.0005s
0091: SELECT DISTINCT "SiteTree_Live"."ClassName", "SiteTree_Live"."LastEdited", "SiteTree_Live"."Created", "SiteTree_Live"."Priority", "SiteTree_Live"."ShowListingImageOnPage", "SiteTree_Live"."ListingSummary", "SiteTree_Live"."SearchAudiencesSource", "SiteTree_Live"."SearchCategoriesSource", "SiteTree_Live"."SearchTagsSource", "SiteTree_Live"."CanViewType", "SiteTree_Live"."CanEditType", "SiteTree_Live"."Version", "SiteTree_Live"."URLSegment", "SiteTree_Live"."Title", "SiteTree_Live"."MenuTitle", "SiteTree_Live"."Content", "SiteTree_Live"."MetaDescription", "SiteTree_Live"."ExtraMeta", "SiteTree_Live"."ShowInMenus", "SiteTree_Live"."ShowInSearch", "SiteTree_Live"."Sort", "SiteTree_Live"."HasBrokenFile", "SiteTree_Live"."HasBrokenLink", "SiteTree_Live"."ReportClass", "SiteTree_Live"."ListingImageID", "SiteTree_Live"."ParentID", "SiteTree_Live"."ID", CASE WHEN "SiteTree_Live"."ClassName" IS NOT NULL THEN "SiteTree_Live"."ClassName" ELSE 'SilverStripe\\CMS\\Model\\SiteTree' END AS "RecordClassName" FROM "SiteTree_Live" WHERE ("SiteTree_Live"."ID" = ?) ORDER BY "SiteTree_Live"."Sort" ASC LIMIT 1 0.0006s
0092: SELECT DISTINCT "SiteTree"."ClassName", "SiteTree"."LastEdited", "SiteTree"."Created", "SiteTree"."Priority", "SiteTree"."ShowListingImageOnPage", "SiteTree"."ListingSummary", "SiteTree"."SearchAudiencesSource", "SiteTree"."SearchCategoriesSource", "SiteTree"."SearchTagsSource", "SiteTree"."CanViewType", "SiteTree"."CanEditType", "SiteTree"."Version", "SiteTree"."URLSegment", "SiteTree"."Title", "SiteTree"."MenuTitle", "SiteTree"."Content", "SiteTree"."MetaDescription", "SiteTree"."ExtraMeta", "SiteTree"."ShowInMenus", "SiteTree"."ShowInSearch", "SiteTree"."Sort", "SiteTree"."HasBrokenFile", "SiteTree"."HasBrokenLink", "SiteTree"."ReportClass", "SiteTree"."ListingImageID", "SiteTree"."ParentID", "SiteTree"."ID", CASE WHEN "SiteTree"."ClassName" IS NOT NULL THEN "SiteTree"."ClassName" ELSE 'SilverStripe\\CMS\\Model\\SiteTree' END AS "RecordClassName" FROM "SiteTree" WHERE ("SiteTree"."ID" = ?) ORDER BY "SiteTree"."Sort" ASC LIMIT 1 0.0006s
0093: SELECT DISTINCT "SiteTree_Live"."ClassName", "SiteTree_Live"."LastEdited", "SiteTree_Live"."Created", "SiteTree_Live"."Priority", "SiteTree_Live"."ShowListingImageOnPage", "SiteTree_Live"."ListingSummary", "SiteTree_Live"."SearchAudiencesSource", "SiteTree_Live"."SearchCategoriesSource", "SiteTree_Live"."SearchTagsSource", "SiteTree_Live"."CanViewType", "SiteTree_Live"."CanEditType", "SiteTree_Live"."Version", "SiteTree_Live"."URLSegment", "SiteTree_Live"."Title", "SiteTree_Live"."MenuTitle", "SiteTree_Live"."Content", "SiteTree_Live"."MetaDescription", "SiteTree_Live"."ExtraMeta", "SiteTree_Live"."ShowInMenus", "SiteTree_Live"."ShowInSearch", "SiteTree_Live"."Sort", "SiteTree_Live"."HasBrokenFile", "SiteTree_Live"."HasBrokenLink", "SiteTree_Live"."ReportClass", "SiteTree_Live"."ListingImageID", "SiteTree_Live"."ParentID", "SiteTree_Live"."ID", CASE WHEN "SiteTree_Live"."ClassName" IS NOT NULL THEN "SiteTree_Live"."ClassName" ELSE 'SilverStripe\\CMS\\Model\\SiteTree' END AS "RecordClassName" FROM "SiteTree_Live" WHERE ("SiteTree_Live"."ID" = ?) ORDER BY "SiteTree_Live"."Sort" ASC LIMIT 1 0.0005s
0094: SELECT DISTINCT "SiteTree_Live"."ClassName", "SiteTree_Live"."LastEdited", "SiteTree_Live"."Created", "SiteTree_Live"."Priority", "SiteTree_Live"."ShowListingImageOnPage", "SiteTree_Live"."ListingSummary", "SiteTree_Live"."SearchAudiencesSource", "SiteTree_Live"."SearchCategoriesSource", "SiteTree_Live"."SearchTagsSource", "SiteTree_Live"."CanViewType", "SiteTree_Live"."CanEditType", "SiteTree_Live"."Version", "SiteTree_Live"."URLSegment", "SiteTree_Live"."Title", "SiteTree_Live"."MenuTitle", "SiteTree_Live"."Content", "SiteTree_Live"."MetaDescription", "SiteTree_Live"."ExtraMeta", "SiteTree_Live"."ShowInMenus", "SiteTree_Live"."ShowInSearch", "SiteTree_Live"."Sort", "SiteTree_Live"."HasBrokenFile", "SiteTree_Live"."HasBrokenLink", "SiteTree_Live"."ReportClass", "SiteTree_Live"."ListingImageID", "SiteTree_Live"."ParentID", "SiteTree_Live"."ID", CASE WHEN "SiteTree_Live"."ClassName" IS NOT NULL THEN "SiteTree_Live"."ClassName" ELSE 'SilverStripe\\CMS\\Model\\SiteTree' END AS "RecordClassName" FROM "SiteTree_Live" WHERE ("SiteTree_Live"."ID" = ?) ORDER BY "SiteTree_Live"."Sort" ASC LIMIT 1 0.0005s
Skip to content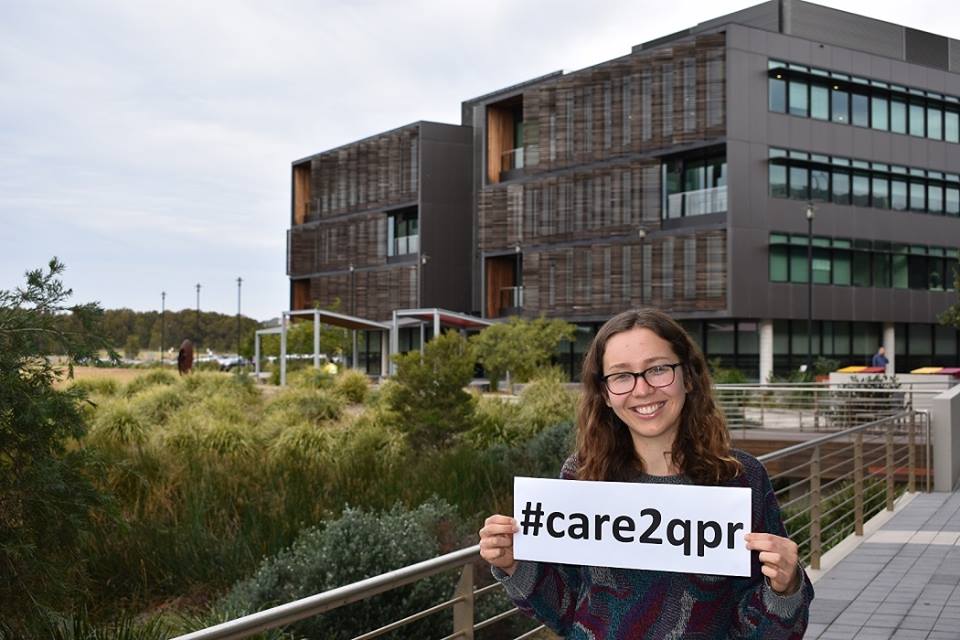 Talking about suicide
The way you talk about suicide is important – it influences how people perceive suicide, and how they speak about it to other people. Talking appropriately about suicide can help to reduce stigma.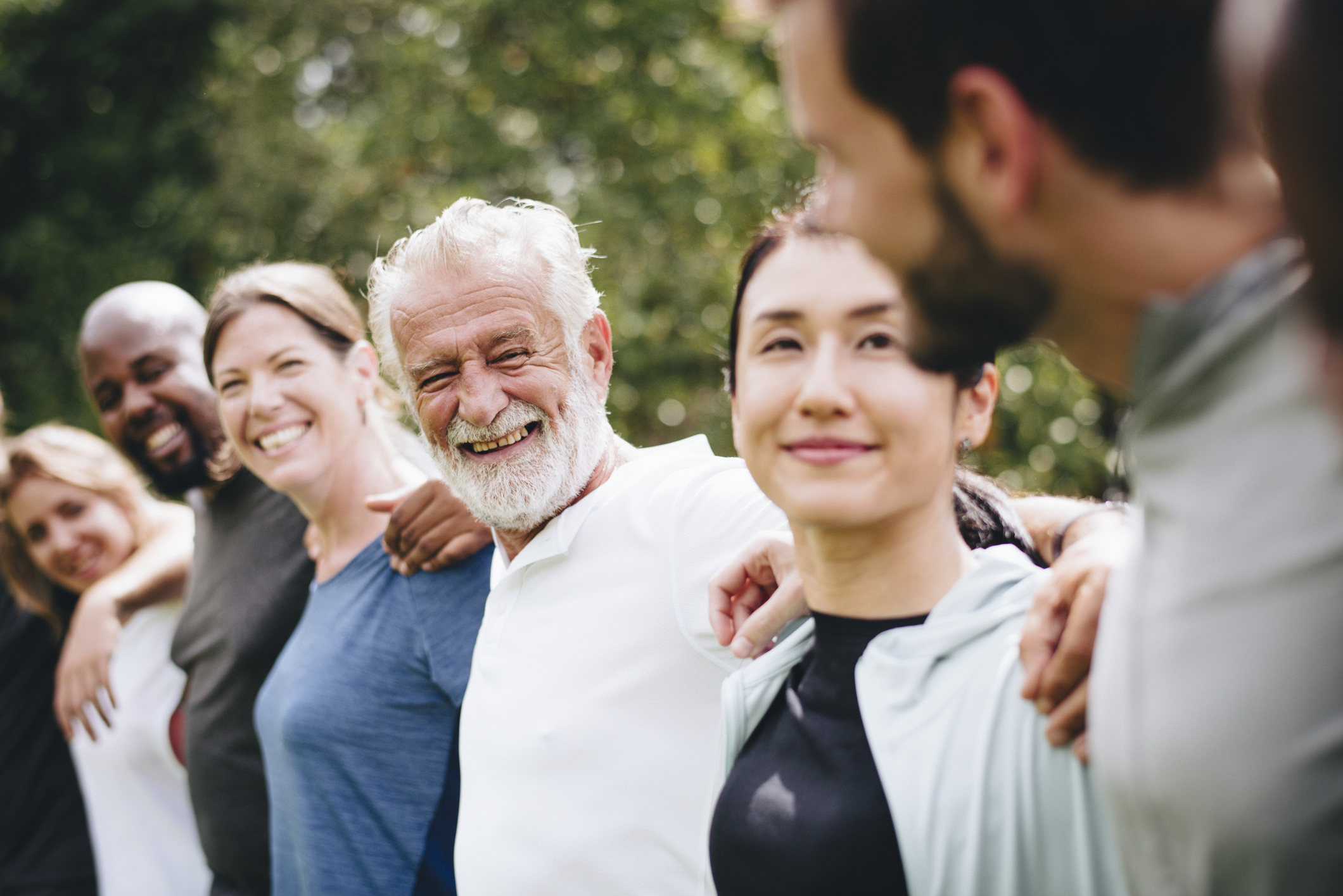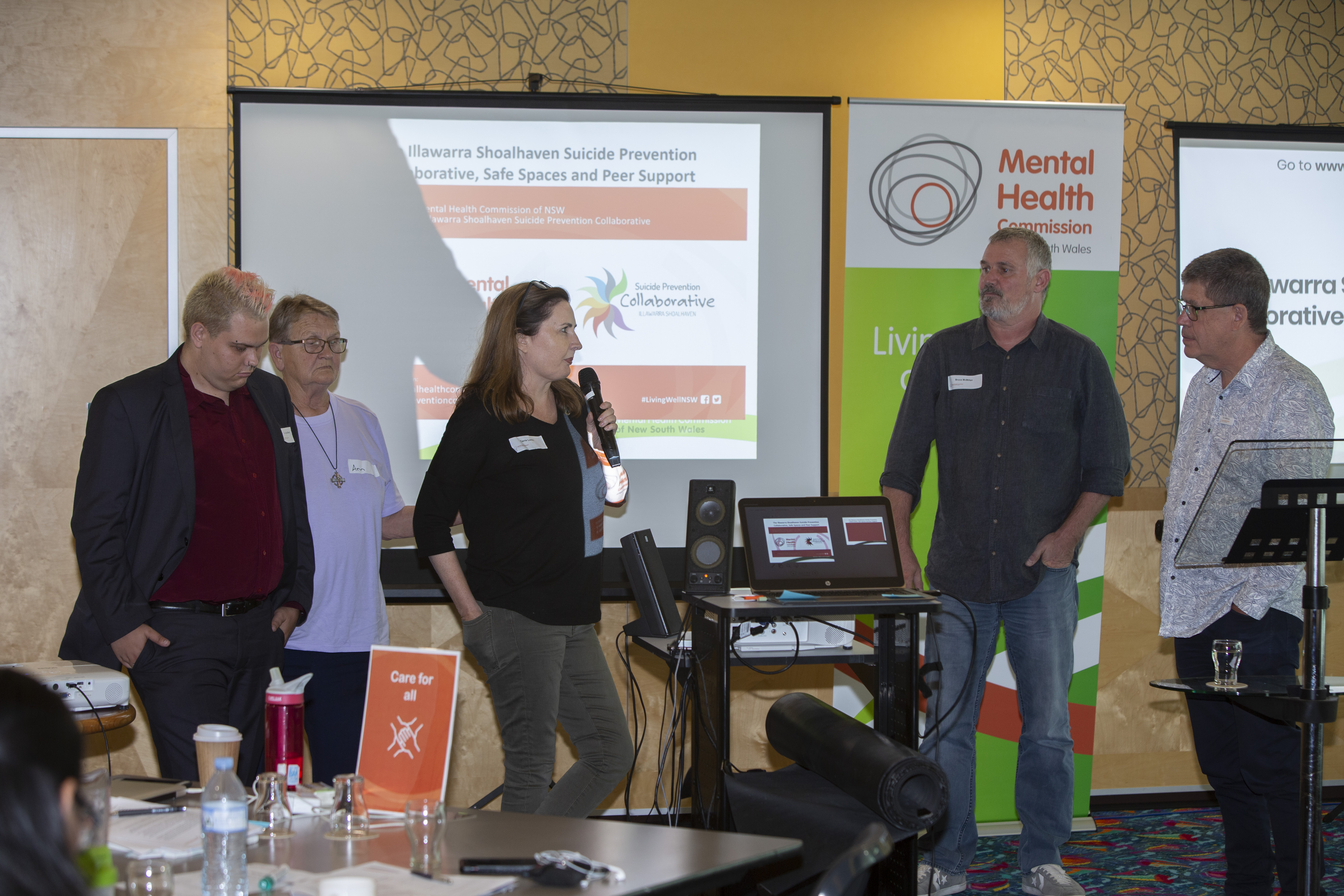 Lived experience co-design
Useful co-design toolkits
People with lived experience bring a unique and valuable form of expertise to all suicide prevention activities. There are many ways to support the meaningful inclusion of lived experience into your organisation.